Introduction
Finding public records in the State of Florida is not as difficult as you may think.
According to Florida law (Title X, Chapter 19), all public records are open for you to review and copy.
By law, you have the right to access your own records, such as your criminal record or birth certificate. Under the principle of open government you also have the right to access public hearings and legislative meetings.
Due to the bureaucratic nature of government, though, it can be challenging to locate the public records you need.
After reading this detailed guide, you will be able to locate any public record that pertains to or is held by the State of Florida.
What Are Public Records?
Public records refer to any document or media created and maintained by a public agency. The agency can be at the municipal, county, or state level.
Therefore, public records include everything from the minutes of public meetings that transpire in Tallahassee or in your county seat to historical maps and photographs.
Public records include court proceedings, arrest records, and inmate records.
There are two main types of public records: those that are covered by the Sunshine Law, and those that are covered by the Public Records Law.
The Sunshine Law is about open government, the cornerstone of a democracy. With the Sunshine Law, anyone can request public documents directly from the state or local agency.
While there is overlap, the Sunshine Law more generally refers to transparency in government, whereas the Public Records Law refers to the personal records of citizens such as criminal records or birth certificates.
Both the Sunshine Law and the Public Records Law are covered under the Florida State Constitution and the Florida Statutes.
All public records can be accessed easily through the appropriate channel. This article will help you locate the appropriate and official State of Florida agency to locate public records for your needs.
Accessing Public Records
Unfortunately, there is no one centralized database for finding Florida public records. Instead, records are kept by their respective agencies.
You need to know which agencies to contact depending on what you are looking for. This article will show you which agencies to contact when you need all types of public records in Florida.
How Do I Access…
Criminal Records  / Arrest Records / Background Checks
The Florida Department of Law Enforcement (FDLE) maintains all criminal records in the State of Florida.
These include, but are not limited to, arrest records and convictions for misdemeanors and felonies.

You can make a search online through the FDLE website.
To make an online search, you need a credit card to cover the $25 fee the FDLE leverages for each name you search for.
Alternatively, you may call the FDLE at 850-410-7676, or email at publicrecords@fdle.state.fl.us.
You can also submit your request for Florida criminal records in writing to the following address:
Florida Department of Law Enforcement
Attn: Office of General Counsel Public Records
P.O. Box 1489
Tallahassee, FL 32302-1489
The $24 fee applies to each Florida Department of Law Enforcement criminal background check or records search, regardless of how you submit the request, and regardless of the results.
Keep in mind juvenile records are generally not considered public records. However, in the State of Florida, juveniles can be tried as adults for some types of violent felonies.
For these types of violent felonies, even a juvenile record becomes public.
Even if a juvenile was not convicted of that crime, their arrest record may be public record if the offence would have been classified as an adult felony at the time of arrest.
If the record had been expunged, then it is no longer considered public record.
Common reasons for requesting a criminal background check or arrest record include:
Background checks on employees or potential employees
Background checks on potential business partners
Background checks for firearms/weapons permits
Background checks for daycare or childcare workers
Background checks for healthcare or senior care workers.
Background checks for elected officials
Jail and Prison Records
Jail records, prison records, and other types of inmate records are kept by the Florida Department of Corrections.

To find an inmate in a county jail or state prison, click here.
If you have trouble finding the inmate you are looking for, make sure they are in a prison located in the State of Florida.
You can find an inmate with the last and first name plus the inmate identification number (DC number). The DC number will have six digits.
You can also perform inmate searches using aliases, and the Florida Department of Corrections has photos of most inmates.
For inmates who are in federal prisons, visit the Federal Bureau of Prisons Inmate Locator.
If an inmate is in a county jail, you should contact the county jail directly for inmate information. A partial list of Florida county jails can be found here.
Reasons you may want inmate information include the following:
Provide legal support or counsel
Find a family member
Send money
Victims may also want to contact perpetrators.
The Florida branch of the Victim Information and Notification Everyday (VINE) service also offers an online search for current inmates.

Court Records
Florida Courts maintains all court records in the State of Florida.
However, the records from county courts are best located on the respective county court website.
A list of county court websites can be located here.
You may need to access court records for any number of reasons, such as doing research as a journalist or author, compiling evidence in a case, or making a legal appeal.

Perform your search for Florida court records in all jurisdictions here. This website makes it easier for you to find all sorts of Florida court records, from county and circuit courts to state and state supreme court records.
You can find everything from affidavits to lien records: anything that has been processed through the legal system in Florida.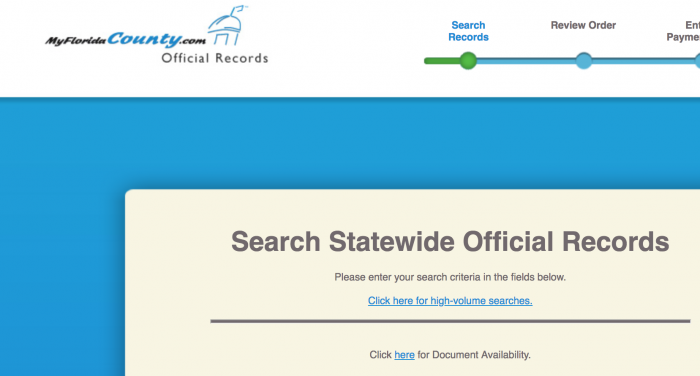 Sex Offender Records
The Florida Department of Law Enforcement (FDLE) also offers the Sexual Offenders and Predators Search database.
If you are concerned about the presence of sex predators in your neighborhood or school campus, you can use this website to conduct a search.
This database allows you to search for offenders who have been released back into the community. You can conduct a search for sex offenders who are registered in the State of Florida by name, by county or municipality, or even by campus.
Victims of sex crimes can also search for sex offenders using this database.
The State of Florida allows access to public records related to sex predators to keep communities safe.
However, the State of Florida does not permit abuse of public records.
According to the Florida Sexual Predators Act, though, it is illegal to misuse public records in the following ways:
Blackmail/extort money
Distribute false information about a suspected predator
Misrepresenting information as public records
Adulterate public records related to a sexual predator
You can conduct a sex offender search here.

Driving Records
The Florida Department of Highway Safety and Motor Vehicles maintains all Florida driver licenses and associated driving records, which may be necessary for insurance purposes.
Driver records are among the easiest personal public records to locate online.
Employers, potential employers, insurance companies, and law enforcement officials may all be granted access to your driving records.
You may want to access your own driving records to make disputes related to insurance premiums.
Many third-party websites offer options for searching for driving records, but the official Florida Department of Highway Safety and Motor Vehicles will look like this:

If you simply want to check the status of your driver license (for instance, to see if your license is still suspended or if it has been reinstated), you can use this link.
The Florida driver license contains information about your driving history, your driver licensing history including the provisions of temporary or leader's permits, results of eye and other examinations, results of all the driving tests you have taken, results of motorcycle license tests, and driving tickets or sanctions on your record. Of course, your driver license record also includes a history of automobile accidents you may have been involved in. This information can be accessed and used by insurance companies.
Information that is contained on your Florida driver license is public record.
If you want to request a copy of your entire driver license record, you would use this form.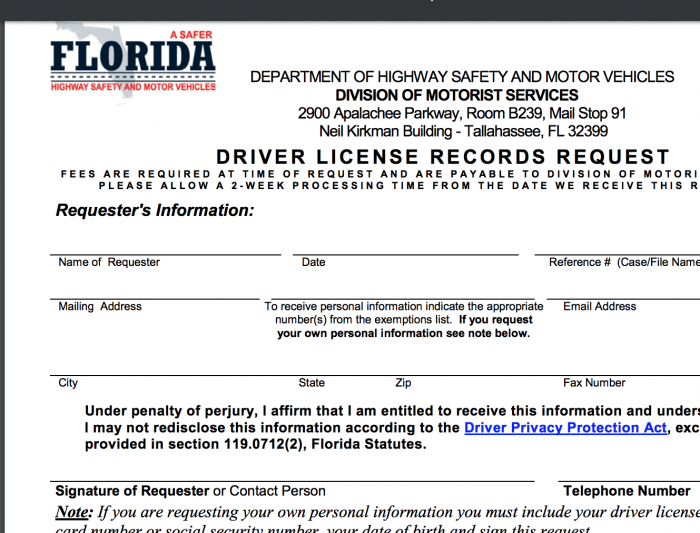 An example of what the Florida driver record looks like can be found here.
Property Records
Deeds, mortgages, appraisal information, and other types of property records in the state of Florida are not maintained in a centralized database.
Property records are instead maintained and held by their respective counties.
Therefore, you must search for property records on a county-by-county basis.
Here is a comprehensive list of Florida counties.
For example, to search for deeds or property appraisal data within Miami-Dade County, you would visit this website.
You may want to access property records for several reasons. For example, if you are interested in purchasing a home, it may be a good idea to conduct a search to learn about the sale history, past property taxes, or other issues.
You can also search for geological and public utilities features and other issues that may impact a piece or property or your intent to amend or develop property.
Blueprints, sketches, maps, and other data may also be considered public records in the State of Florida.
You may also need to search for property records in the case of an unresolved will or trust.
Unclaimed Property Records
The Florida Department of Financial Services is in charge of unclaimed property management and liquidation.

All unclaimed property may be liquidated or donated to the state school fund for public education. Generally, cash will be donated to the state public education fund.
However, there is no statute of limitations on your ability to claim property
Some examples of unclaimed property may include:
Cash
Securities
Jewelry
Art
Stamps
Heirlooms
Insurance policies
Utilities contracts
Dormant bank accounts
Many people forget about their safety deposit boxes, properties that have been in the family for generations, or heirlooms that eventually get transferred to the Florida Department of Financial Services.
You can search for unclaimed property by last name or company name here.
Will and Probate Records
Will and probate records in the State of Florida are public records, but they are not kept by one central agency.
However, most probate records fall under the rubric of the Florida Courts system.
To be made legal, all wills must become public record under Florida law.
Probate records are considered court records because they involve potential disputes related to the deceased's assets and investments including:
Bank accounts
Real estate
Insurance policies
Stocks and bonds
Unfortunately, there is no one place to locate a will in the State of Florida. You need to seek access to this public record by going to the relevant county's probate court.
Some counties like Miami-Dade allow individuals and family members to resolve small estate out of probate. Small estates are those for which no real estate or other major assets are involved, and involve nominal amounts of cash.
Missing Persons Records
The Florida Department of Law Enforcement maintains all missing and endangered person records.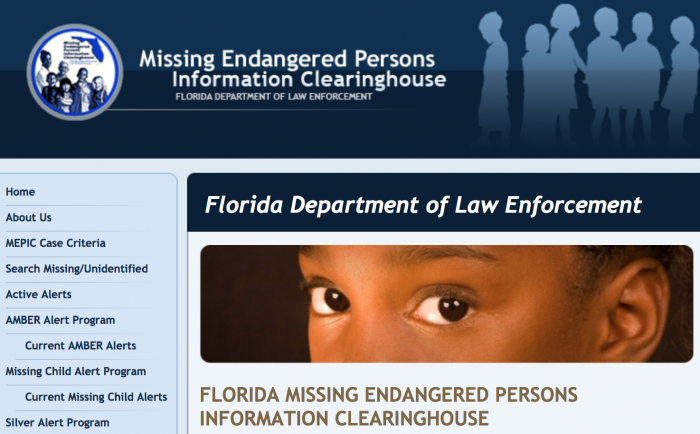 The Florida Missing Endangered Persons Information Clearinghouse (MEPIC) is an inter-agency initiative that allows you to request information about missing and endangered persons, as well as unidentified deceased persons.
The Public Access System (PAS) of the Florida Crime Information Center maintains the database and allows you to search here.
Voter Registration Records
In the State of Florida, voter registration information, including your email address, phone number, date of birth, and political party affiliation is considered public record.
The Florida Department of State maintains the database of persons registered to vote in the State of Florida.
You can search for your own voter registration records, apply for voter registration in the State of Florida, or update your voter registration information here.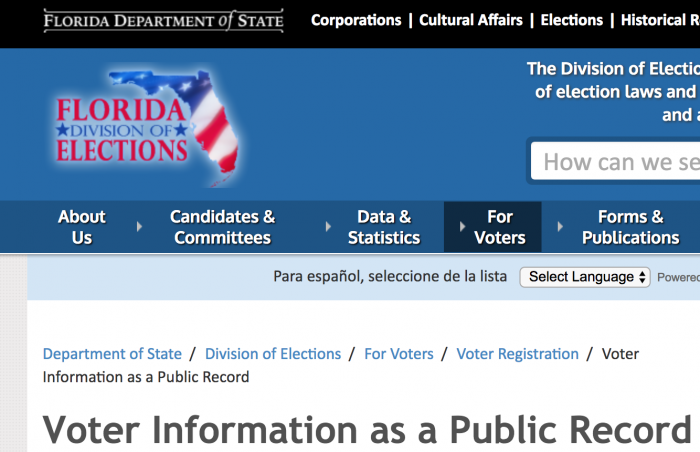 Only under extreme circumstances can you apply for exemption from this law in order to keep your personal information private. For example, if you are in a witness protection program or in certain high-risk professions, you may apply for exemption. Otherwise anyone may access the information contained in your voter registration.
Vital Records
The Florida Department of Health manages all vital records in the state including:
Birth
Death
Fetal Death
Marriage
Divorce
These types of records can be obtained by going directly to the Florida Department of Health Website here.
However, you may also need to contact the specific county in the state of Florida.
Among the most common types of public records accessed, vital records may be necessary for a number of reasons.
For example, you may be applying for residency or citizenship in another country.
Your insurance company may need to see one of these records.
Florida law protects your right to access your vital records at any time.
Public Meetings
The Sunshine Law is an open government policy, allowing citizens to access any public meeting or public records.
Sessions of the state legislature, Florida supreme court, county court, or county commissioner are examples of public meetings that will have been recorded. You may want to access information from public meetings to make more informed decisions as a voter, to conduct research on elected officials, or for your own personal interest.
Personal Medical Records
Your personal medical records are generally not considered public information.
A federal law called the Health Information and Privacy Act (HIPAA) is specifically designed to protect you and your family from breaches of confidentiality.
An employer cannot fire you for a health condition, so HIPPA is designed to protect you in cases like these.
Similarly, insurance providers cannot wantonly access your Florida health records.
A potential employer cannot access your health records when deciding whether or not to hire you, whereas an employer can access your criminal background.
You are protected according to the ethical principles of confidentiality and privacy.
Only you and your healthcare team will have access to your medical records.
However, there are some exceptions. Physicians, including psychiatrists, may access your personal medical records in the following situations.
Physicians are required by law to report when you have certain contagious or infectious diseases like tuberculosis or sexually transmitted diseases.
Likewise, physicians may be required to report certain infectious diseases to public health agencies.
You may have waived your right to your records, offering consent to release your medical records. This sometimes occurs without you being aware of it, so consult a lawyer if you believe your confidentiality was unfairly breached.
Insurance companies are not permitted unbridled access to your personal medical records but you may have unwittingly allowed access via your contract.
If you are in a severe accident that renders you unconscious, your medical information may be released to your next of kin, who may then discuss your situation with a physician.
If you are involved in a workers compensation lawsuit, a doctor is legally allowed to discuss your personal medical records in testimony.
Why Access Public Records?
People access public records for a number of reasons.
When you apply for a firearms permit, you are generally required to submit your background check.
You may need your background check or arrest record when applying for a job, and your employer does have the right to request this information.
Some government jobs do require background checks, and employers in some sectors may do the same.
If you are applying for citizenship or residency in another country, or when sponsoring a landed immigrant in the United States, you may be required to provide some of your vital or public records.
Permanent residents (Green Card holders) in the United States may need access to some of their personal and vital records when applying for American citizenship.
When hiring childcare or home health workers, employers can perform background checks on applicants who provide their consent.
Although it can take a long time for the municipal, county, or state agency to process your request, be patient.
Make sure you have all the relevant information you need to access the public record you seek in the State of Florida, including first and last names, date of birth, and additional information. For example, if you are searching for a prisoner in a state prison, you will need the DC number, or six-digit prison identification number.
Can Other People Access My Personal Records?
It depends.
Government agencies may access your personal records if and when you are applying for a job with a federal, state, or municipal government agency.
Also, government agencies are permitted to access your personal records when you apply for some professional licensure or certifications.
Some government agencies require that you conduct the records search yourself, which is why this website may help you.
There are some safeguards in place to prevent unauthorized persons from accessing your personal records. However, much of your personal data can be easily located online, making it easy for identity theft to occur. Take precautions when using the Internet when giving away your personal information.
Conclusion
The search for public records can be daunting. Even though recent public records and a large amount of archived records have been digitalized, public records are not always easy to find.
The Sunshine Law and the Public Records Law ensure transparency and open government.
Like the federal Freedom of Information Act, these state laws prevent unlawful access of your personal data while preserving your right to access any information that is on the public record.
We hope this website has helped you to narrow down your search for public records in Florida. You now know which Florida state, country, or municipal agencies to find, and how to request public records.