New Jersey Public Records Laws
Access to public records in New Jersey is governed by the state's Open Public Records Act (OPRA), or P.L. 2001, c. 404.
The law entitles citizens of New Jersey to "readily accessible" records—based on the principle that the public has the right to know and the freedom of access to information.
For whatever reason, you can legally access any public record free of charge in the State of New Jersey.
What Happens If I Can't Find What I Am Looking For?
One of the fundamental purposes of OPRA is to guarantee right of access to public records. If you cannot find what you are looking for, you could file a public appeal.
Any citizen can request, and is entitled to receive by law, any public record on file in the state of New Jersey.
Likewise, any citizen can appeal a denial of information.
How Do I Appeal a Denial of Access?
There are two main ways you can appeal a denial of access to information to New Jersey public records:
File a suit in a Superior Court.
–OR–
File a complaint with the Government Records Council.
Please note, you must choose one or the other; you cannot file a suit in a Superior Court and file a complaint with the Government Records Council. In New Jersey, you must choose one or the other option.
What Counts as Government Records?
Simply speaking, any information that New Jersey state law requires to be maintained in a formal record is considered a government record.
The information does not have to be in print, a written paper record, to be considered a public record. For example, all of the following are considered to be public records:
Photographs
Maps
Drawings
Electronic/Digital Information
Tape Recordings
Video Recordings
Plans
Microfilm
Legislative proceedings
Is There Anything Exempt from Public Access?
Yes.
The State of New Jersey lists several specific exemptions from OPRA. If you are seeking any of the following, your request may be denied and an appeal is unlikely to be fruitful:
Internal memorandums
Telephone recordings made by public officials
Emails made by public officials
Coroner or medical examiner records
Consultative material
Some criminal investigation records
Victim accounts
Trade secrets
Anything covered by the attorney-client privilege
Any information that compromises the security of a private building or public facility
Personal identifying information such as Social Security Numbers
Records from higher educational institutions
Information that is part of an ongoing investigation
Public defender records
Personnel records
In rare cases, a court order may override the OPRA exemptions.
However, the exemptions to OPRA are generally in place to protect the public or private individuals and organizations from harm.
If your request for information was denied, you may want to investigate the specific categories of exemptions and then determine whether an appeal is warranted.
How Do I Make a Request?
You can make an OPRA request directly here.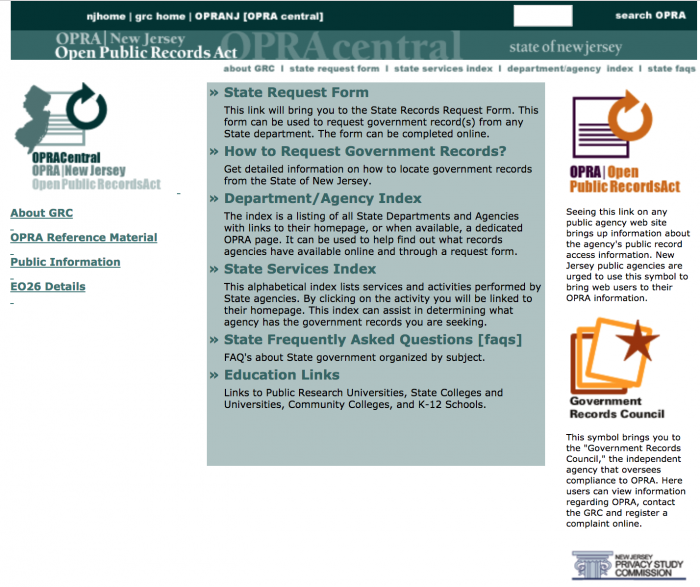 Arrest Records and Criminal Records
If you need to access information on an individual's arrest or criminal history, you can visit the New Jersey State Police/Office of the Attorney General main page on criminal records history.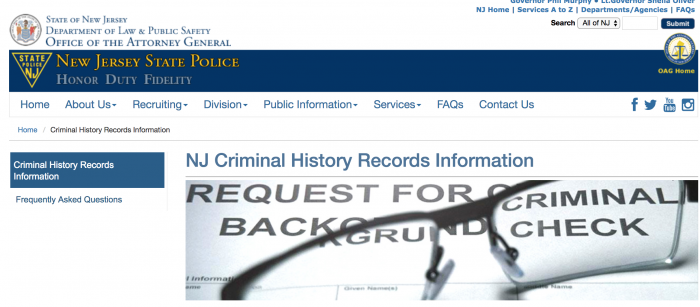 You are entitled to access arrest or criminal records if you are:
Seeking your own arrest or criminal records
A practicing attorney
A private detective
An employer
A government entity
For privacy protection, arrest and criminal records are not issued arbitrarily.
However, you are always entitled to access your own criminal history in the State of New Jersey. Reasons you may want to access this information include:
Parole or other good conduct requests
Immigration and citizenship applications or appeals
Applying for a foreign visa
Adoption applications
Foreign investments and business
Expungement
Forms to access your records can be found here.
Why access arrest records and/or criminal records?
You may want to access your own arrest and criminal records when building a case for your own appeal. Simply speaking, you do have the right to know what your public record contains to prevent anyone from unlawfully using that information against you. You may be able to apply to expunge your criminal record; in these cases, you or your attorney would apply for the right to access this information through the State of New Jersey.
If you are an employer, you have the right to screen applicants to ensure that your business and your clients' safety are not being placed in potential jeopardy.
Government agencies generally have the right to access a person's criminal and arrest records for purposes like job applications with local, state, and federal government and especially when a person applies for a visa or citizenship.
When you apply for residency or citizenship abroad, your criminal history may be taken into account. Likewise, if you are conducting business or investing in a foreign country, your arrest and criminal record may be requested.
Jail and Inmate Records
The New Jersey Department of Corrections is in charge of inmate databases.
Inmate public records are subject to the provisions of OPRA, and therefore can be accessed.
According to the New Jersey Department of Corrections, inmate databases are updated biweekly but inmate records can change more often than that; cautions should be taken when interpreting the inmate records.
Please note: once an inmate has been paroled or released, information on the person's parole status is not necessarily updated.
Inmate records are removed from the New Jersey Department of Corrections website one year after release.
You can search the inmate databases here.
You may also search the database via the New Jersey Victim Notification Service (VINE) website.
Many people need to access jail and inmate records, including victims who have the right to monitor the status of an offender. Similarly, family members may want to access an inmate's records. Parole officers and case managers may also be eligible for accessing a person's jail and inmate records. Inmates who seek appeals, or whose applications for parole have been denied, may seek their own jail and inmate records for legal purposes.
Court Records
Some, but not all, court records are public access and covered by OPRA.
OPRA covers the following types of court records:
Civil and Special Civil Court Records
Criminal Division Records
Family Division Records
Municipal Court Records
You access each of these records via different pathways; there is no single State of New Jersey court records clearinghouse.
Generally for both Active and Closed cases, court records can be obtained by contacting the appropriate local/county courthouse.
However, you need to contact the Superior Court Clerk's Office for the following:
Statewide Judgment Lien Records (Active and Closed)
Foreclosure Case Records (Active and Closed)
Case Files for:

Civil cases (Closed)
Divorce cases (Closed)
Foreclosure cases (Closed)
General Equity Cases (Closed)
You may receive any of the following types of court records:
Plain copy (simple photocopy of the record)
Certified copy (plain copy stamped and signed by the Superior Court Clerk/Deputy Clerk)
Seal of the Court copy (Certified copy plus official Superior Court seal)
Exemplified copy (necessary if the document is needed outside the State of New Jersey)
Triple Exemplified Copy (with additional certifications by judge and court clerk)
Apostille (which may be needed in other countries)
For more information on how to obtain court records in the State of New Jersey, visit the New Jersey Courts website.
There are many reasons why you may want to access court records in the State of New Jersey. You may be writing a book or doing research on a specific case and seek access to the records on file. Journalists may need access to court records to better understand the facts and merits of a case. Alternatively, you may seek access to court records to build information for your own case or appeal.
Vital Records
Please note: Birth records and certificates, marriage records, and death records and certificates are NOT considered to be public records and therefore are not covered by OPRA.
For more information about how to access vital records in the State of New Jersey, please visit the Center for Disease Control and Prevention's National Center for Health Statistics.
Alternatively, you can contact the local vital records offices as seen here.
You will need to provide a proper form of identification and proof of relationship to the individual listed on the vital record.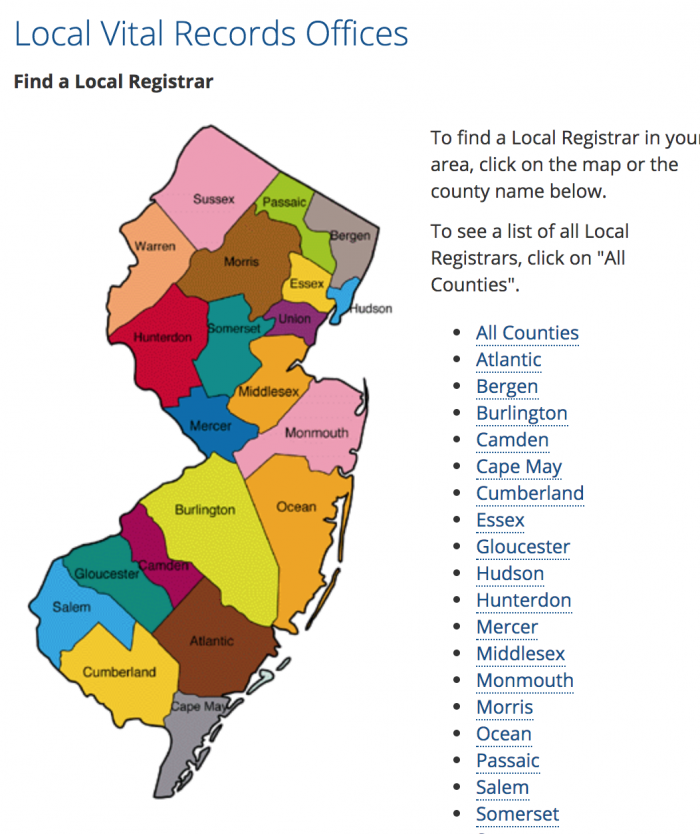 Why access vital records?
You may want or need to access your own vital records for a number of reasons.
If you are getting remarried, you will likely need to have a copy of your prior marriage and divorce certificates.
When you are applying for citizenship or residency in another country, you may be asked for your own vital records including birth and marriage certificates.
For legal purposes, you may need access to your vital records or those of a loved one.
Financial institutions will require death certificates for the transfer of ownership of property indicated in a will, for example. Life insurance and other insurance companies may also request death certificates.
If you are eligible for your spouse's retirement benefits following their death, you would need a death certificate.
Wills
Wills are not automatically entered into the public record in the State of New Jersey. The will testator, the person who made the will, in conjunction with an attorney, chooses to file information with the State of New Jersey.
However, the Office of the Secretary of State maintains a Will Registry.
As with vital records, will records are not considered public information and therefore are NOT covered by OPRA.
Those eligible to access will records in the State of New Jersey include the following:
Next-of-kin (children, spouses, and other potential heirs)
Fiduciaries
Devisees
Creditors
Beneficiaries
If you are eligible to receive a copy of a New Jersey will, you can access the application form here.
Wills can be contested on various grounds. A person may contest a will if they are next of kin or otherwise potential heirs.
In many cases, financial institutions and creditors may seek access to a will if the deceased was in debt.
Background Checks
Background checks are not generally covered by New Jersey's OPRA.
Government agencies or banks may also be able to access a person's criminal or credit history. However, not just anyone can request a background check. To protect the privacy of New Jersey residents, only approved parties may request a background check.
In some cases, employers are required to conduct background checks on candidates or employees for jobs in certain sectors such as nursing, education, and childcare.
Property owners may also be eligible to receive background information on a potential tenant.
The following are considered eligible for receiving background check information on an individual:
Government agencies (ie. Immigration)
Employers (especially in healthcare and education but in other sectors too)
Landlords
Firearms sales
Why would someone want to perform background checks?
Government agencies need to perform background checks for several different reasons and under several circumstances. For example, immigration officials need to access a person's vital records and criminal history to assess eligibility for a visa application, application for permanent residency, or application for citizenship. Similarly, if someone seeks to sponsor a family member or employee, United States Citizenship and Immigration Services would want to perform a background check on the individual.
If you are applying for a job at any local, county, state, or federal government agency, that agency would want to perform a background check. Having a criminal record could, in some cases, preclude you from eligibility for a position.
Similarly, any employer may be eligible to conduct background checks on potential employees. The reason why employers do this is to protect their business or the safety of their clients. In fact, some industries—such as healthcare and education—are required by law to perform background checks on candidates and employees. Home health caregivers, childcare workers, nurses, and educators are all entrusted with tremendous responsibility taking care of vulnerable populations. Therefore, background checks are warranted in these cases.
Property owners also have the right to perform background checks to screen potential renters or lessors. As with employers, it is in the best interests of a property owner to know whether one of their prospective tenants has a criminal record. In some cases, insurance policies may mandate background checks for prospective tenants.
If you are interested in purchasing firearms, a background check may be mandatory.
You can also conduct a background check on yourself to be aware of what your record holds, and to know what information about you is in the public record. Having access to your own background information empowers you as a citizen of New Jersey and the United States
Why Access New Jersey Public Records?
Freedom of information is one of the cornerstones of a democracy.
You have a right to access your own personal information such as birth records, marriage records, divorce records, court and criminal justice records, financial records, and more.
In some cases, you may also have the legal right to access information belonging to other people.
For example, if you are a beneficiary in someone's will, you have the right to access the will.
If you are a property owner interested in renting or leasing, you have the right to access the public vital records of potential tenants.
What About Privacy?
The law aims for a balance between protections of individual privacy and protections of democratic rights including public safety.
Public records include two basic types of information: personal information on citizens like you, and public records such as maps or images, legislative history, and other government records.
In a democracy, the people are the government. Therefore, government records are considered open access except in cases when open access would threaten public health or safety.
Thus, a malicious individual will be prevented from accessing the blueprints to a federal building or a public works facility while a journalist would not be barred from seeking a politician's recorded statements in a session of the state legislature.
As a citizen of the State of New Jersey, you have the right to know how your city and state are being run, to expose suspicious behavior or unearth patterns of corruption. A democracy depends on freedom of information.
Accessing public records may often be a time consuming and daunting process but this website aims to help you exercise your rights as a voter.