The most straightforward way to request public records from any municipal or state agency is to send a request directly to that agency or office as follows:
Address an email or letter to the "Records Access Officer" of the agency.
In the subject line of your email, write "FOIL request" to expedite the processing of your request.
Specify the records you need.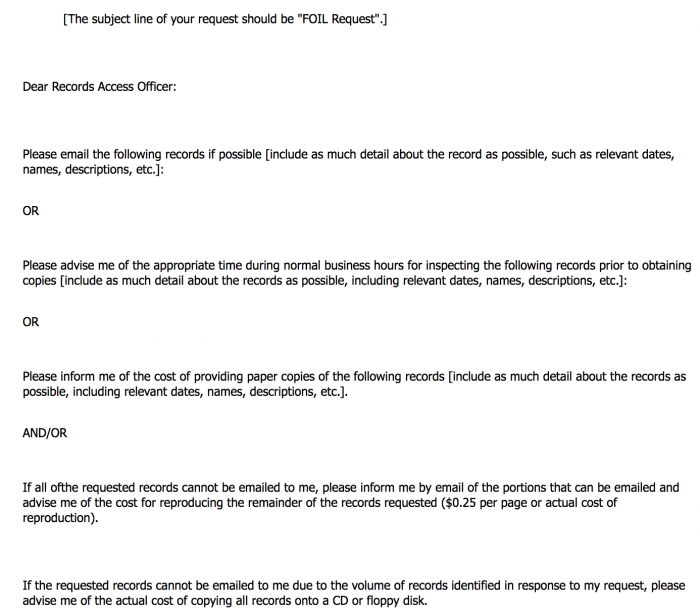 You do not need to explain why you seek access to the public record.
However, reasons you may want to access public records include the following:
You are filing a lawsuit.
You are doing research.
You are appealing a conviction.
You need clarification about statutes, bylaws, or legislation.
You want to know whether someone in your community has been breaking the law.
Public Records Laws
Access to public records in New York is governed by the state's Freedom of Information Law (FOIL).
The law entitles citizens of New York to access agency records, state legislative records, based on the principle: "The people's right to know the process of governmental decision-making and to review the documents and statistics leading to determinations is basic to our society," (§84).
In fact, every state or municipal department or government entity is subject to this law.
FOIL falls under the provisions of the New York State Committee on Open Government.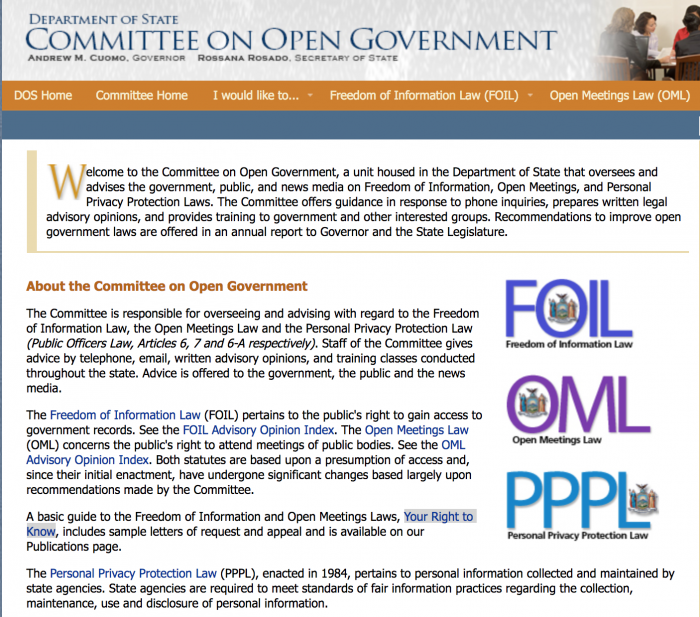 Where Do I Send My Request?
All requests must be submitted directly to the applicable agency, committee, public authority, or council.
This article will help you locate the appropriate agency you need to write, in order to request the public records you seek.
Until recently, there was no central clearinghouse for all New York state or municipal records. You had to painstakingly research which government agency or department to email.
In 2018, the State of New York made it much easier for you to make a FOIL request.
Using this website, you can file a request for public records directly, and can even send the same request to more than one agency, which may be necessary in some cases.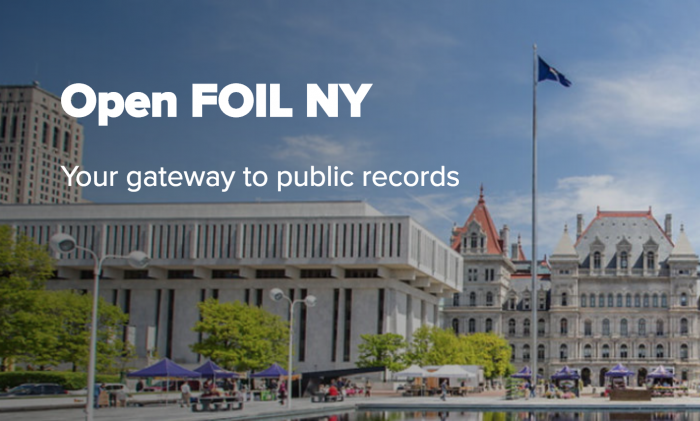 There are dozens and dozens of local and state agencies that hold public records you can access.
Examples of New York state and municipal agencies you can write include:
Council on the Arts
Department of Civil Service
Department of Financial Services
Department of Health
Department of Labor
Department of Motor Vehicles
Department of State
Department of Taxation and Finance
Developmental Disabilities Planning Council
Division of Human Rights
Gaming Commission
Long Island Power Authority
Office for the Prevention of Domestic Violence
Roosevelt Island Operating Commission
Workers Compensation Board
Types of information you may want to request include:
Legislative proceedings
The full text of bills and laws
Fiscal and budget information
Transcripts or minutes of public meetings
Internal or external audits subject to public inspection
Administrative or staff manuals that might relate to occupational health and safety compliance
Official dissenting opinions filed by committee members
Voting records of public officials
Files or documents like municipal maps or archived documents
What is Exempt from the Freedom of Information Law?
Sometimes, the right of the public to freedom of information in government is constrained by the right of individuals to privacy protection.
Sensitive information related to an individual's personal identity will typically be withheld, and is not considered public access, even if a government agency retains a record of this data.
For example, the following will not be covered under New York's Freedom of Information Law:
An individual's credit history
Personal medical history
A person's employment history
A list of names for marketing or fundraising purposes
Does it Cost Anything?
Although many electronic records may be free, there may be a cost to process your request for New York public records.
Fees will vary depending on the type of request, the number of printed pages needed, and the amount of research required to retrieve the records.
For more information, please contact the appropriate state or municipal agency.
New York Personal Records Laws
Personal records may be considered government property but they are not considered public access because the government also has a commitment to protecting your privacy and preventing fraud or identity theft.
Although also covered under the rubric of the New York State Committee on Open Government, your own personal records are therefore not covered under Freedom of Information Law.
In other words, you cannot access information about another citizen and vice versa in the same way you would be able to access a legislative record or other type of public document.
There are exceptions to this rule, such as when you agree to release information about yourself to a potential employer or to a professional licensing agency.
New York Privacy Protection
Access to personal records in the State of New York is covered under the Personal Privacy Protection Law (PPPL).
The purpose of the PPPL is to protect your personal records from unwarranted or unnecessary use and therefore prevent infringements on your privacy.
It is worth noting that personal records may be released if one of the following conditions are met:
The personal or identifying details have been deleted from the record.
The person about whom the record refers offers explicit written consent to disclose the information.
The person provides proof of identity for accessing his or her own records.
You are applying for a job or a professional license and an employer or licensing agency has "statutory access" to your records.
In other words, the PPPL ensures that you have the right to access your own personal records.
But the PPPL also ensures you have some (but not unlimited) control over who else can access your records.
For example, if you are applying for a job in education, healthcare, or childcare, or a job in certain government sectors, you may be required to release your own personal records.
Statutory access to a person's records may be granted when it is deemed in the best interests of public health and safety.
How Do I Request My Personal Records?
You need to submit a request in an email or letter to the appropriate state or municipal agency.
Give as much detail as possible in your request, including subject matter, names, dates, and any information that can be used to process your request.
The agency is obliged to help you, but if you do not have the information needed to locate a specific record, your request may be denied.
How Can I Request Someone Else's Personal Records?
Local, state, and federal laws do entitle some employers and licensing agencies to access the personal records of potential employees or applicants.
If you represent a specific organization or employer, you can apply for accessing an applicant's personal records.
If your agency is entitled to access an individual's personal records, you can use the PDF form here.
Your request may be denied if it is believed that the release of information is unwarranted, not covered under a municipal, state, or federal law, or would be considered an unnecessary infringement on privacy.
What Happens If I Can't Find What I Am Looking For?
All New York government agencies are required to provide you with a written notice stating the reason why your request has been denied or unfulfilled.
You are entitled to file an appeal to a denial of access within thirty days.
New York Background Checks
You can request your own arrest records if you have the proper identification.
In some cases, an employer may be entitled to request an applicant's or an employee's arrest records.
However, most employers in the state of New York cannot require you to provide arrest records as a condition of employment.
Hospitals and other healthcare organization, and also New York government agencies may, however, require arrest records as a condition for hire or licensure.
The New York State Police maintains arrest records. You can apply for a FOIL request for your arrest records using this form.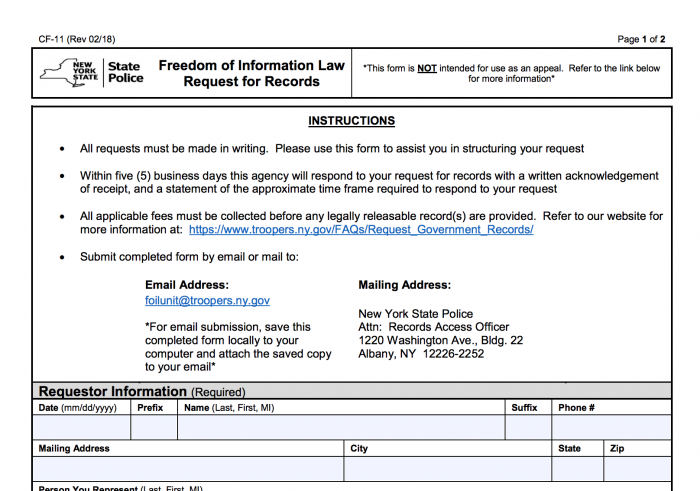 New York Court Records
Court records are also covered under FOIL.
You can seek access to New York State court records here.
Under the New York State Unified Court System, you can even access court records (such as proceedings and decisions) related to:
Veterans Courts
Sex Offence Courts
Community Courts
Human Trafficking Courts
You can seek information related to:
Case Type
Attorney Names
Presiding Judge
Docket Numbers
No matter what the outcome of the trial or hearing, you may need access to your own court proceedings.
Your attorney may request court records on your behalf, especially if you have a pending trial or if you are appealing a conviction.
Some third party organizations including employers may be entitled to access your court records, too.
New York Criminal Records
Your criminal history records can be accessed through the New York State Division of Criminal Justice Services.
You can access your own criminal records through the New York State Division of Criminal Justice Services.
Accessing Someone Else's Rap Sheet
If you are an employer seeking background checks on potential or existing employees, you can also make a request through the New York State Division of Criminal Justice Services.
However, it is important to keep in mind that state and federal laws may prohibit you from accessing that information.
New York State labor laws expressly prevent employers from discriminating against individuals with arrest or criminal records. For more information, see the New York State Department of Labor website.
Can Employers Refuse to Hire Me if I Have a Criminal Record?
Sometimes.
In certain job sectors, an employer can refuse employment to individuals convicted of some felonies, especially violent crimes and sex crimes.
An employer may have the right to access criminal history records, including arrest records, but cannot do so arbitrarily.
Important Information About Discrimination
It is also important for employers to keep in mind that the United States Equal Employment Opportunity Commission (EEOC) prohibits discrimination.
While employers are usually entitled to require applicants to release their own criminal history records, discriminating on the grounds of prior arrests may constitute a violation of EEOC laws.
In the State of New York, "Access to criminal history records for employment or licensing is only permitted if there is a state law, federal law, or local law of a New York State village, town, city or county that specifically authorizes a fingerprint-based criminal history record check for employment or licensure."
New York Jail / Inmate / Probation / Parole Records
In the State of New York, the Department of Corrections and Community Supervision maintains jail and inmate records, which you can search here.
If you want to locate an inmate in one of the state's correctional facilities, you can search the database of current and former inmates.
You may need to have on hand the full name of the inmate and admission date, as well as the inmate identification number.
Request for information may be denied in the case of juvenile inmates.
Likewise, the request for information on inmate records may be denied to protect the individual's privacy.
An attorney at law may access jail, inmate, probation, and parole records for a client.

New York Health Records
Hospitals and physicians in the State of New York are required by law to keep health records, including medication and hospitalization records, for a minimum of six years after the patient's last visit.
The same is true for home health care providers, physician assistants, physical therapists, social workers, dentists, and other care providers.
Obstetrical records may need to be kept even longer—until the child is 19 years of age.
The New York State Public Health Law does give you the right to access your health records, even if you are behind in your payments.
Furthermore, the hospital and the physician are prohibited from charging you a fee for accessing your own health records. This information is protected under the Freedom of Information Law.
In most cases, the executors or administrators of a deceased person's estate may also have access to the individual's health records for legal purposes such as settling a dispute.
Keep in mind:
Your health records can be released only to you or, if you are a minor, to a parent or legal guardian.
Insurance companies, corporations, and even other healthcare providers are not automatically entitled to access your health records.
You will not have to pay for the service of retrieving your health records unless you make a special request for printouts.
The healthcare provider must respond to your request within ten days of receiving it.
The following types of records may not be eligible for release:

Personal notes from nurses or practitioners
Information that was expressly meant to be kept confidential
Information that the practitioner believes would be harmful to disclose for whatever reason
Substance abuse records
If the healthcare organization believes that releasing information about your personal health would do more harm than good, or if your request conflicts with the right to privacy of another individual, your request may be denied.
For more information about when requests can and cannot be denied, see the New York State Department of Health Access to Patient Information sheet.
However, you can appeal a denial of access to your health records by using this form here.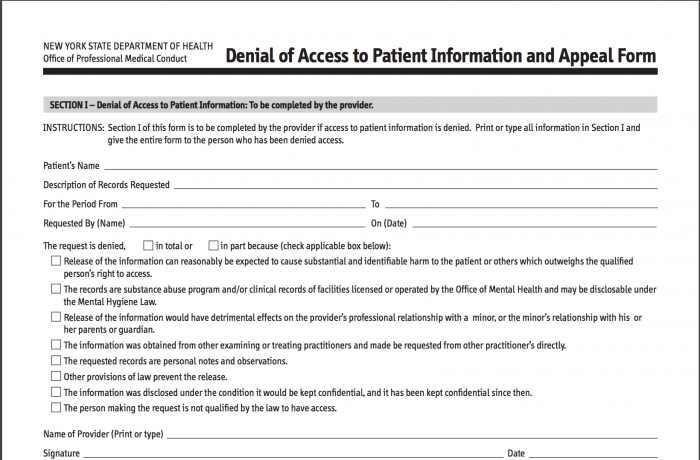 New York Vital Records
Vital records consist of birth, death, and marriage certificates that are kept on file in the State of New York. You may need access to vital records for a number of reasons, including:
Legal name change
Divorce or remarriage
Application for permanent residency or citizenship
Adoption applications
You submit a request for vital records to the New York State Department of Health.
The New York State Department of Health maintains the following records:
Death certificates
Genealogy records
Adoption records
Can I Seal My Criminal Records?
Yes.
Under the new Criminal Procedure Law §160.59, if you have a clean record for ten years AND no pending charges in the State of New York, you can apply to have your prior records sealed.
However, your request to seal your records may be denied if you were convicted of certain crimes including violent crimes and sexual offences. See here for a detailed list of the offenses ineligible for sealing.
How Do I Apply to Seal My Records?
You can learn more about the process of sealing your records, and retrieve the necessary application forms here.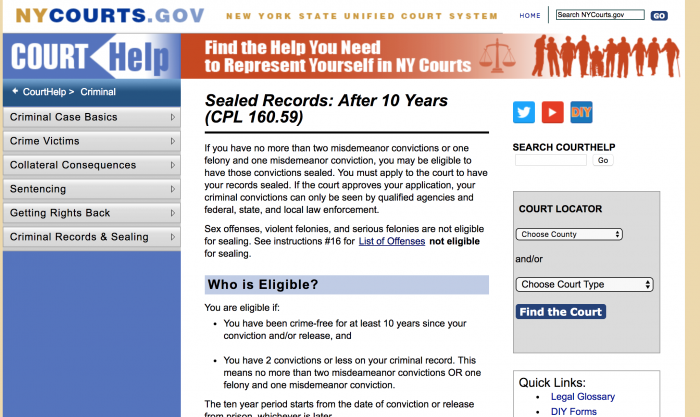 Balancing Privacy with Freedom of Information
A democracy only functions well with transparency, when the public has access to government records.
Similarly, in a democracy, the state should never disallow access to your own personal information unless doing so would endanger the public in some way.
New York State law achieves a balance between protecting your privacy and promoting the tenets of democracy and freedom of information.