For anyone lucky enough to live and/or work in the State of Vermont, understanding the ins and outs of free public records becomes essential.
As a citizen or resident of Vermont, you are entitled to search for public records. This guide will show you how.
Why are public records important? Well, for one, they safeguard the fundamental principles of a democracy. The government keeps meticulous records of all its activities, which includes anything related to your personal identity. Your birth, your marriage, and your eventual death will be recorded in the public records, as are everyone else's.
One of the main reasons why people search for free public records in Vermont or anywhere else in the United States is to run a background check.
If you are an employer, small business owner, or a landlord in Vermont and found this guide because you want to run a free background check on someone, then you did indeed come to the right place!
This guide will help you to find the free public records you need in Vermont—the ones that comprise the background checks that are required by law in some cases. For example, if you are hiring a nanny, a daycare employee, or a home health aide, you have to run a background check. That background check includes a criminal records check.
You do these types of background checks by searching the free public records for things like convictions, jail time served, driving records, and so on.
Public Records Are Not Just For Background Checks
You don't necessarily need to run a background check to order public records.
In fact, there are dozens of reasons why you might have the need to search for a public record in Vermont.
One reason is to get an official copy of a document such as your birth certificate or a divorce record.
Another reason would be to get property records to do a title search, or to dispute a will for a probate case.
You might want to do some research for genealogy or just for your own personal reasons. Or perhaps you are a writer, researcher, journalist, or attorney at law seeking important information that is contained in the public records.
The public records are also there for another important reason: freedom of information.
Undoubtedly you have heard the term freedom of information. It refers to open government: the idea that the government is obliged to be transparent in its dealings in order to prevent corruption.
Unless there is a really good reason (such as to protect national security or to protect someone else's privacy to prevent identity theft or harassment) then you should be able to access the information you need if it is contained in a free public record.
Also remember that it doesn't matter where you live. You can get public records from Vermont or any other state.
When you are running free background checks, in fact, you will likely need to look at the free public records in other states because of the fact that many people will have moved around and lived in other places before they moved to Vermont. The same may also be true for you.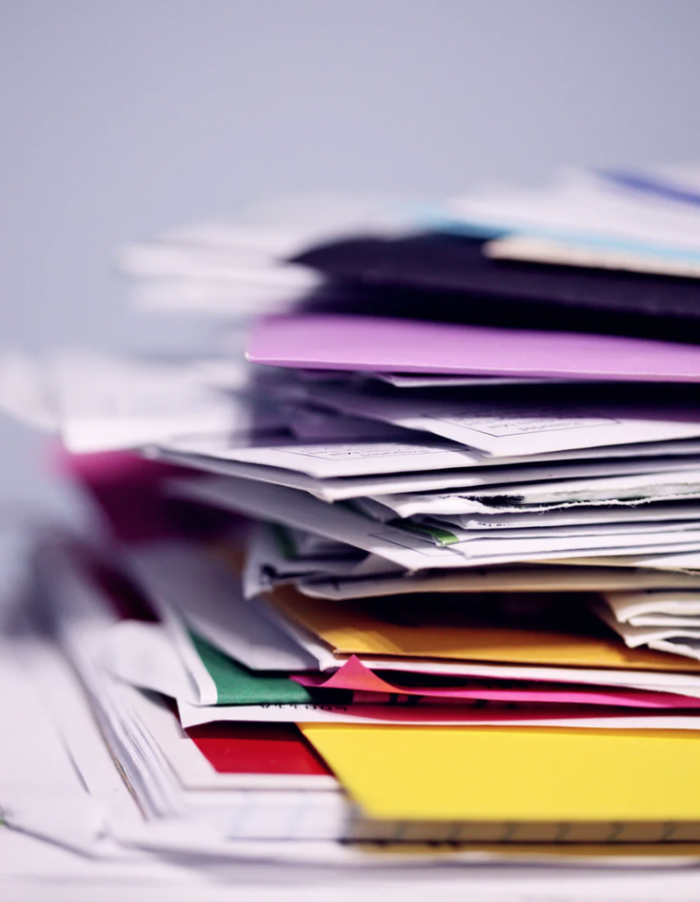 The Importance of Running Background Checks in Vermont
Background checks seem invasive and may often be intrusive, but they are necessary for a number of reasons. They are also perfectly legal, as long as you comply with state and federal laws.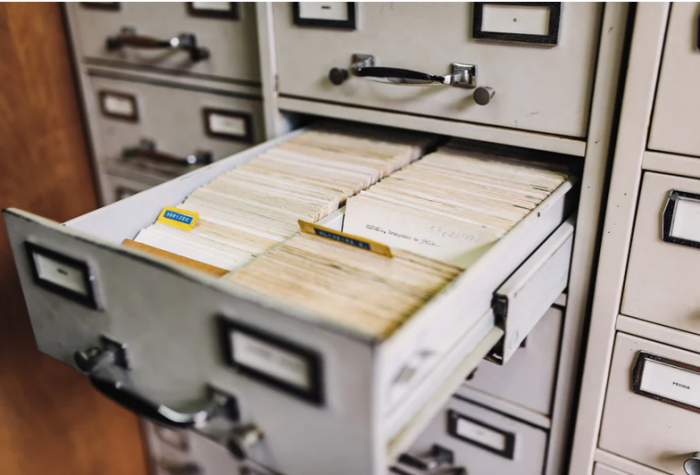 A background check is a process whereby you search the free public records for information about a person. You can also run a background check on a company, which comes in handy.
Background checks identify key factors of interest, such as whether the person has a criminal record, or what civil cases they might have been involved in too.
From the public records, you can learn about the person's driving record and whether they had a DUI or a major conviction.
You can also learn about the status of a person's sentence, or whether the person was telling the truth about their marital status.
In government jobs, jobs that involve working with vulnerable populations like the elderly or children, or work with hazardous materials, you may also be required by law to run a background check. A background check is also referred to as a criminal records check. Some of these checks you can do yourself, as long as you have the individual's permission.
Not all public documents will be available to you simply by asking for them. To protect your privacy and that of every other citizen of the state, the government releases sensitive data such as that which is contained on the driving record only to qualified individuals.
This article should clear up some of the misconceptions about public records and eliminate confusion so that you can do background checks quickly, easily, and safely.
How Much Does It Cost?
For the most part, it costs very little to use the free public records or to run a background check. There are always little fees associated with administrative costs or printing services, especially when you need a certified copy of a public record.
However, the costs are kept deliberately low in order to preserve the principles of freedom of information. For more information about Vermont law related to your right to access free public records, check the website of the Vermont General Assembly.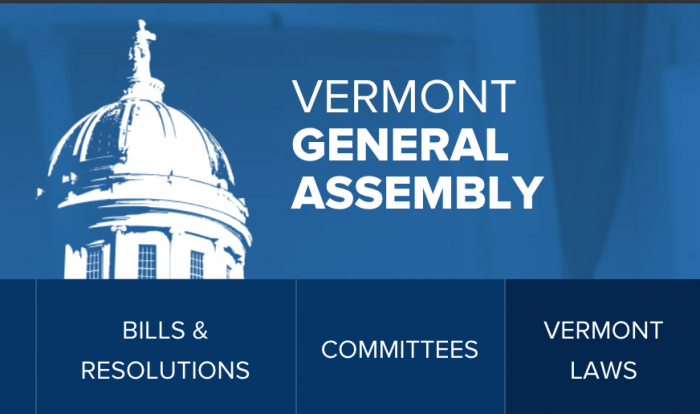 You may also have noticed that when you search online for "free public records" in Vermont you will come upon some services that offer to do background checks for you. There may be fee-for-service or subscription service fees associated with these options, so be careful. This guide will point you in the general direction of Vermont state government websites that will only charge you the nominal service fees required to access specific documents.
Public Records
Generally speaking, public records are anything in government archives and files—digital or hard copy. Photos, maps, blueprints, and court documents are all public records. So are property assessor statements, vital records like birth certificates, and missing persons reports.
Any time a government agency at any level (state, local, or federal) does something, there is a paper trail. The paper trail ensures transparency, accuracy, and accountability. The paperwork is important for legal purposes. And you, as a citizen of a democracy, also have the right to see what your government is doing. You have every right to view court documents or the proceedings of a legislative assembly—such is the beauty of a democracy.
This guide will lead you to the appropriate government websites that have the records you seek. Each public record will be held by a different agency, as each agency has its own responsibilities and areas of focus such as public health, public safety, law enforcement, the judiciary, or tax revenue.
Understanding the Differences Between Local, State, and Federal Records
Every state is different in how its government is structured, and which agencies have jurisdiction over which issues. There are some general patterns, though, which help you to understand why not all records can be located in one easy place. Perhaps in the future, records will be easier to access through a consolidated digital system but until then you are bound to come up against the walls of government bureaucracy when you search for free public records.
You are least likely to look for federal records for your own personal searches or for background checks. Exceptions would be if a person had been involved in a federal court case. Another example of when you might access federal records would be when law enforcement officials in local, county, or state jurisdictions share information about wanted felons or convicted sex offenders.
Otherwise, the vast majority of public records you will want to look for when doing a background check or when looking for your own documents will be at the state or at the county or municipal level.
Property records are almost always at the county level of government because of the way property tax systems tend to work.
Driving records and the majority of court records of concern to you in running background checks are state issues.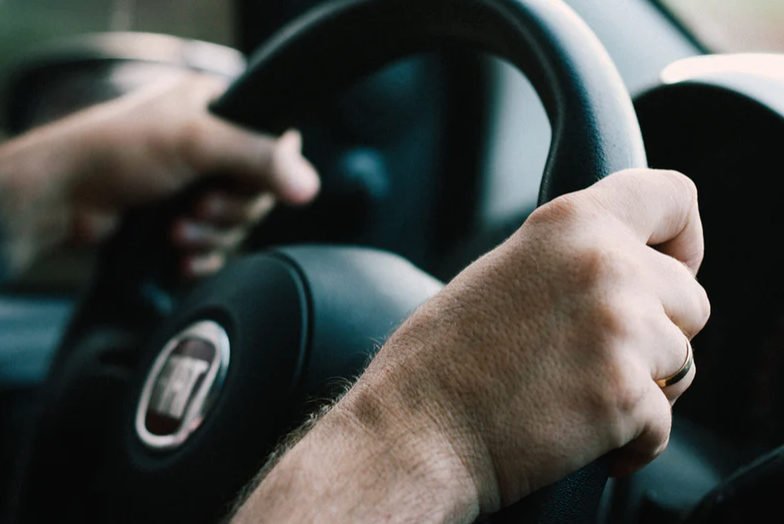 Employers and Landlords NEED to Read This
One thing worth talking about sooner rather than later is the legal implications of running background checks on prospective tenants, if you are a landlord, or on prospective employees.
Anti-discrimination laws are taken very seriously in Vermont, and they are backed up by federal laws like the Fair Credit Reporting Act (FCRA).
Running a background check on someone is totally fine, as long as you don't use the information you find against the person in a discriminatory fashion.
This is especially true if you happen to come across sensitive information related to the person's credit score or financial status. The FCRA protects individuals from discrimination based on their credit report, and it is important that you keep this in mind.
Similarly, you can find information about a convicted sex offender and make decisions about where to live or send your children to school accordingly, but that does not mean you can go harass the individual.
What Are Public Records?
A simple list of some of the most common items you can find in the free public records in Vermont follows:
Arrest records—although arrest records are typically not viewable on demand by members of the general public
Court records—these are relatively easy to find and can tell you a lot about the details of a person's criminal history
Sentencing records—which shows how the judge made a sentencing decision in light of state law
Prison/Inmate records–including how long a person served, what type of sentence (probation or prison), parole information, and how long the person has remaining on an existing sentence
Property records—which are kept by Vermont county governments
Violent criminal/sex offender databases
Missing persons databases—which along with the sex offender databases, are usually linked with federal databases to aid in cross-border search operations
Birth certificates
Death certificates
Marriage records
Divorce records
Will and probate records
Unclaimed property records—referring to dormant bank accounts and other money that was forgotten or unclaimed by the deceased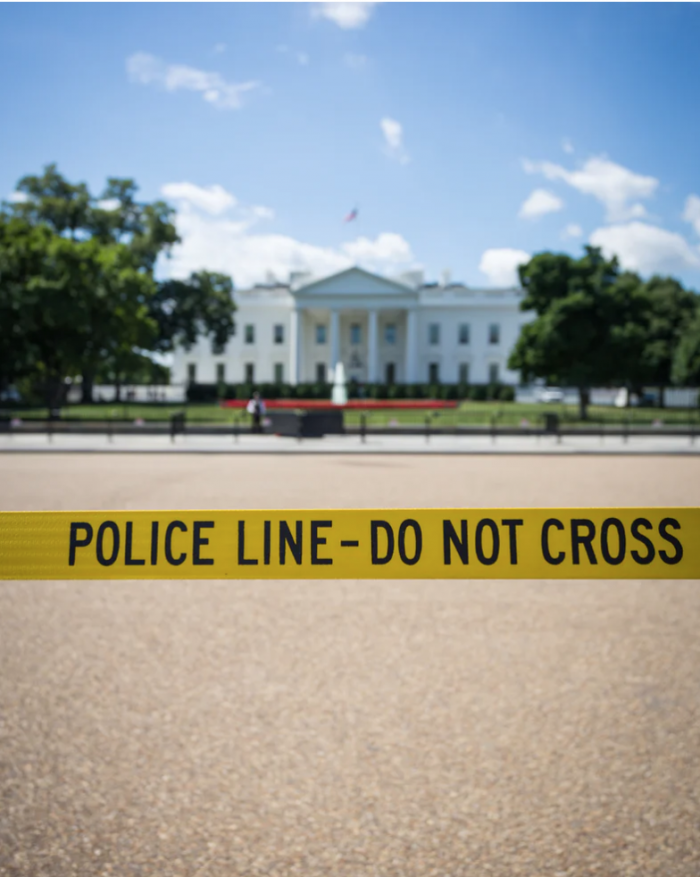 Reasons You May Want Public Records
Public records are a part of your life whether you know it or not. Consider the following common purposes for using guides like these to find public records that are surprisingly relevant or even necessary for you personally:
Applying for your passport. When you apply for a new passport or to renew your existing one, you may be asked to present copies of public records known as vital records. A birth certificate is the most important because it would show that are you are an American citizen, but you may also need to show your marriage records if you changed your name legally. The same may be true for trusted traveler programs or of course for applying for any official travel documents in another country.
Applying for your professional certification or license. Lawyers, doctors, psychologists, teachers, and other professionals need to receive formal accreditation in the State of Vermont. When you apply for the state-issued license or certification, you will be asked to submit to a criminal history check and may also be requested to submit official copies of vital records like your birth certificate.
Changing your name. Changing your name legally is relatively straightforward, but does require that you access the free public records pertaining to your former legal name printed on your birth certificate. If you changed your name because you were married, and want to return to a maiden name, you may also need to present a copy of a divorce record or decree. This guide will also demonstrate how you can do that.
Gender change. A legal gender and name change would similarly require the use of vital records to submit to the state.
Genealogy searches. If you have done genealogy research already, you know that accessing public records is all part of the process. Through archived materials, you can locate information about long lost relatives, living or deceased, to aid in your search.
Law enforcement or crime research. Whether you are a private investigator, an attorney, a journalist, or simply a curious citizen or creative writer, you can access any number of official court documents and other public records to substantiate your research.
Inmate search. A common use of the free public records in Vermont is to find out where a person is serving time, and how to contact that person. If you want to visit, send money, or send mail, you can do so easily using the tips in this guide.
Buying property. Before you purchase a new property in Vermont or anywhere, you need to run a title search to make sure there are no outstanding liens on the property. The best way to do that is to locate the free public records pertaining to that piece of property.
Running Background Checks
Now, employers and landlords run background checks routinely. Background checks are a matter of public safety, protecting your business and your employees as well as members of the general public like your customers. In many cases, background checks are mandatory. Consider the following situations in which performing a background check may be recommended, even when they are not mandatory.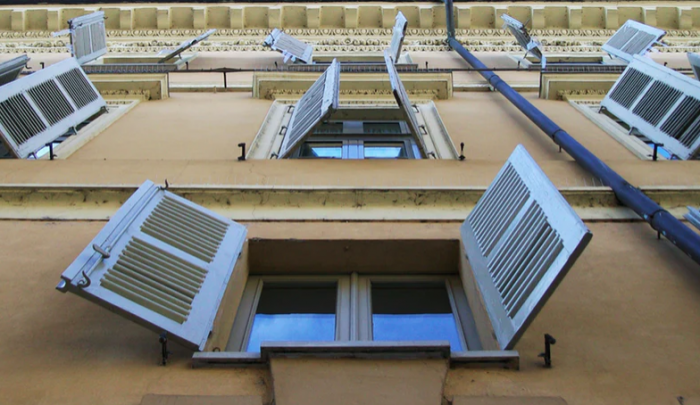 Renting a Home or Apartment. If you just moved to Vermont and are searching for a home or apartment to rent, you might want to consider running a background check on the landlord or the property management firm. This is especially true if you located the property online. You never know who you are dealing with. Many landlords and property owners will have been involved in civil suits that you will want to know about before signing that contract.
Screening Tenants. While being FCRA-compliant, you can still rest assured that a background check will reveal all you need to know about the person's past and whether they can be considered a trustworthy tenant. The background check can include criminal history and driving record, for example.
Online dating. When you meet people online, it is always a good idea to verify their information and to run a background check to see if they have a criminal history.
Contractors. Running a background check on a contractor you hire makes perfect sense, given that you do not want to work with someone or a company that was repeatedly sued for contract violations.
Babysitters, Tutors, and Nannies. You should always run a background check on childcare workers, and may be required to do so by law. The same is true for eldercare workers.
Checking Your Own Information. One of the most valuable uses of this guide will be for you to access all your own public records. You can verify that the information on file is correct, and also find out what your employers can learn about you.
How Can I Find….
Background Checks
The Vermont Crime Information Center is where you want to go for all the information you need for a criminal history or background check.
Run by the Vermont Department of Public Safety, the Crime Information Center allows you to access the criminal conviction records for you or any other individual.

To search, you can go directly to the Vermont state government's Criminal Conviction Records Internet Service.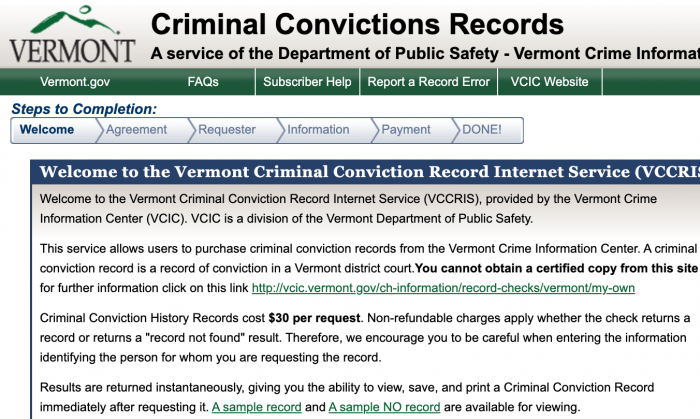 Court Records
Searching court records can be an important component of a standard or more detailed background check. Also, the court records are useful for research purposes such as building evidence for your appeal.
If the case was heard in Vermont, you can go to the Vermont Courts Online system.
You can also access Vermont court records via the Vermont Judiciary Public Portal.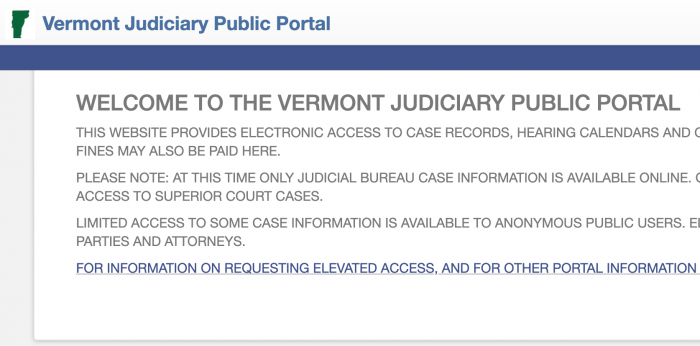 Driving Records
Driving records can be an important part of a background check, telling you a lot of information about an individual. Since much of that information is sensitive and could be misused, such as the Social Security Number, the government safeguards this data carefully.
You can access your own driving records from the Vermont Department of Motor Vehicles.
If you are looking for someone else's records, you may need their authorization.
For more information on how to obtain someone else's records or about driving records in general, visit the Vermont DMV website FAQ page.
Inmate Records
It is fairly easy to locate inmate records in Vermont via the state Department of Corrections.
The search tool will help you locate anyone serving time in a state correctional facility—but if the person is in a county jail or in a federal prison you may not find the name.
You can also go directly to the Jail Tracker Database.
Using the inmate tracking service, you can visit the person, find out how much time is left on the sentence, or send money.
You can also use this tool if you are a victim or family member of the victim.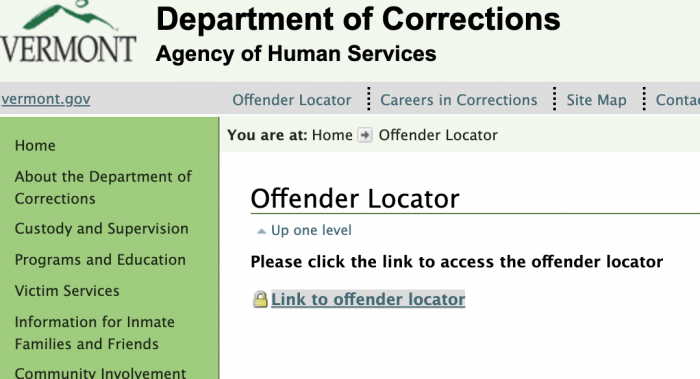 Sex Offender Records
Sex offender registries are mandatory by law, to ensure public safety.
If you are interested in knowing the whereabouts of a specific offender, or want to know more general information about convicted sex offenders in the area, you can learn more by visiting the Vermont Crime Information Center, which is housed within the rubric of the Department of Public Safety.
Missing Persons Records
The Vermont State Police manage a comprehensive and regularly updated database of missing persons.
Both adults and children go missing daily. Some run away, others are abducted.
Law enforcement in Vermont understands that missing persons can cross state or international borders, so the databases are often linked with federal law enforcement services.
Property Records
In Vermont, as with most states, property records related to issues like titles, deeds, and liens, are kept and maintained at the municipal level of government.
This means there is no one state database. However, the state of Vermont has made it simpler for you to search for the property records you need.
Visit the Vermont Department of Taxes—the official state government body that oversees such issues. From there you can access information related to property records.
Alternatively, you can use this list of Vermont counties to find the municipality that pertains to your property.
Unclaimed Property Records
Just to clarify, unclaimed property is not abandoned real estate.
The term "unclaimed property" is used to refer to relatively small amounts of cash or personal effects left in safety deposit boxes in banks. Other examples of unclaimed property include unclaimed wages, unclaimed security or utilities deposits, or dividend checks.
How does this happen? Sometimes people just forget. But much of the time, property is unclaimed when the owner passes away intestate. In those situations, the primary beneficiary can claim that property simply by showing the right form of identification to the government.
The Vermont Office of the State Treasurer manages all the unclaimed property in the state, safeguarding it until the rightful owner (or beneficiary) presents identification to reclaim the money.
It costs nothing to check, so it pays to run your name through the system and see what comes up!
Vital Records
Finally, a very important reason for accessing the free public records in Vermont is for vital records.
Vital records include birth certificates, death certificates, marriage and divorce records. The vital records also include adoption records.

For more information and to order the vital records you need, go to the Vermont Department of Health website.
To order any vital records from Vermont, you can go directly to the Vital Records Request Service, a service of the Vermont Department of Health.
Conclusion
This guide was designed to provide you with the information and tools you need to conduct free public records searches for yourself, or to run free background checks in the state of Vermont. If you have any questions about public records, you can ask an attorney who can help guide you through the process of using these records appropriately and effectively.
Public records are a vital part of the democratic process and show our government in action. Check out the other state guides if you did not find the records you need in Vermont specifically.