Introduction to TruthFinder
Once considered little more than a novelty, background checking websites have become increasingly popular over the last decade. This may be due to the fact that more and more of our daily lives are transitioning to an on-line format, which means that we are connecting with an increasing number of people with whom we may not share any in-person friends or acquaintances. This makes it difficult to know whether we are getting accurate and complete information. Background search sites let you trust but verify.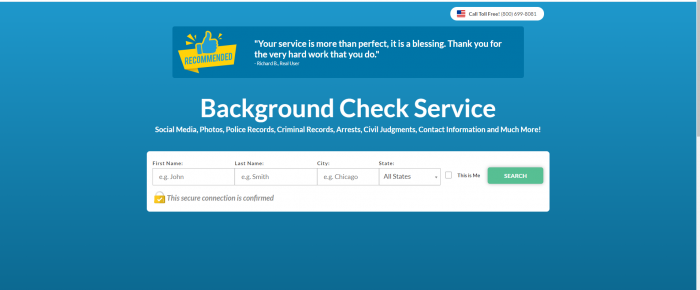 TruthFinder was launched in March of 2015 with the goal of providing instant access to thousands of public records on people in the United States. By compiling and consolidating public records to provide information about the people you are searching, it provides a deeper dive than a simple Google search, often offering up access to information that may be hidden behind multiple paywalls.
Most customers seem happy with TruthFinder's services. They have over 9.5 million sessions each month, thousands of five-star reviews, and an A+ rating with the Better Business Bureau. However, there are also some customer complaints that seem to highlight consistent problems, not with the services they provide but with billing and other account issues. We decided to check them out for ourselves and let you know whether we think TruthFinder lives up to its hype.
Is TruthFinder Free?
We all want free stuff, and because you do not have to pay before running a search you might initially think TruthFinder is a free service. TruthFinder is not free, and while that can seem like a bit of a bummer, the fact that their services are paid makes sense. For them to collect information that is behind pay walls, they have to pay. However, they pay for that information in bulk, which means that using TruthFinder to access information could cost you less than if you were accessing it, yourself.
TruthFinder is a membership-based service. The cost for a monthly membership varies according to the level you select and seems to be subject to specials. On the day of this review, a one-month subscription was $28.05, and a two-month subscription was $23.28 per month, but by waiting to sign up they offered a full-access trial membership for $1. Subscriptions provide access to an unlimited number of reports. Memberships are auto-renewing, and you have to cancel them in order to avoid being charged the next month.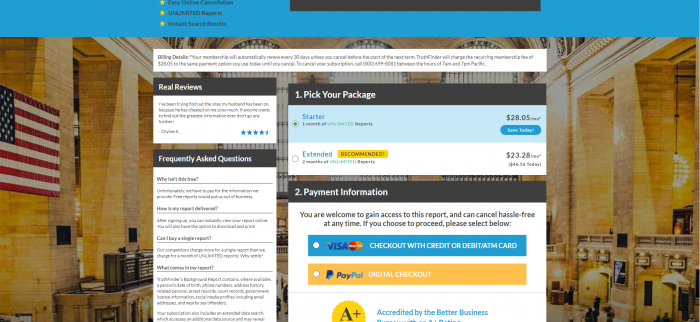 If you keep the page up and do not select a membership, the page will eventually offer you the ability to purchase a single report instead of paying for a membership. This option is presented in a pop-up box. The price offered for it was $29.95, which is, of course, more expensive than either the one-month or two-month unlimited membership. The bonus of this is that it is not an auto-renewing subscription policy.
For the purposes of this review, the reviewer ran a TruthFinder search on her own name. The initial free results included an accurate list of her relatives and the cities where she had resided, allowing her to verify that it had selected the right person. She was then able to opt for them to complete a detailed report and given the option of selecting relatives. It accurately flagged one relative for potential criminal activity and allowed her to select other relatives as well, so it was giving additional information for free.
How Does TruthFinder Work?
TruthFinder compiles information from a variety of different services to create a report on a selected individual. Sources it examines includes public records, internet sources, government watch lists, arrest records, court records, tax records, sex offender registries, and social media. By asking questions about where a person has lived and a person's relatives, it helps narrow down the people you want to find, eliminating same-name results.
Almost all of this information is available in the public record, but it may be behind paywalls and difficult to access. TruthFinder consolidates it all into a single report. Information that could be in the report includes: professional licenses, birth records, death records, relatives, relationships, friends, roommates, arrest records, criminal records, social media profiles, online dating profiles, employment history, educational history, contact information, census data, sex offender registration, assets, bankruptcies, judgments, weapons permits, business affiliations, trademarks, and known aliases.
TruthFinder's Features
TruthFinder's People Search feature lets you search for people by name. The more information you have, such as an approximate age, a state, or cities where the person has lived, the more tailored the results will be. To make the searches more accurate, TruthFinder will ask you some yes or no questions about the target as it is doing the search. The answers you provide help them eliminate potential matches, and, towards the end of the search you may be asked to provide any additional information that you have to help further narrow the results.
TruthFinder's Reverse Phone Number Lookup allows you to enter a phone number and get information about who the phone is registered to or associated with.
TruthFinder's Reverse Address Lookup allows you to enter an address and get information about who owns the home as well as who lives in the home.
TruthFinder's Dark Web monitoring goes beyond the normal internet to examine the Dark Web. TruthFinder partnered with TransUnion to routinely monitor the Dark Web to see if your personal information is being sold or traded. It looks for your name, social security number, passport number, email addresses, bank account numbers, medical identification numbers, phone numbers, driver's license or state i.d. numbers, credit cards, debit cards, membership cards, social network accounts, and phone numbers and alerts you if they are being traded.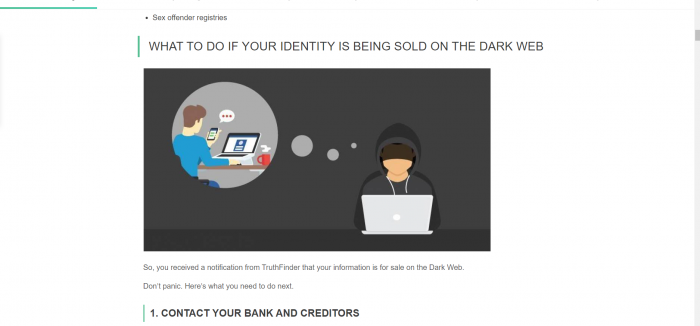 TruthFinder has a mobile app that you can use on your phone, which is available through Google Play and the Apple App Store.
TruthFinder also maintains a vibrant social media presence.
Pros and Cons of Using TruthFinder
Pros
Fast
Reliable information from a variety of sources
Affordable memberships offer value, especially for multiple searches
Detailed reports provide information about the results
Comprehensive reports pull information from multiple types of databases
Mobile Apps
Relatives and other known associates show up on reports
Cons
Consumers report difficulties canceling memberships
The results hint at potential trouble in a report when none exists
Led to believe you must subscribe even if you only want a single report
The biggest con of using TruthFinder was that it really tries to make you think there is something secretive, dark, or hidden in a report. As we previously stated, the reviewer searched for herself to write this review. She knows her entire history, which does not contain any type of illicit activity, judgments, or other red-flag type behavior. The experience was still full of pop-ups and disclaimers like this one: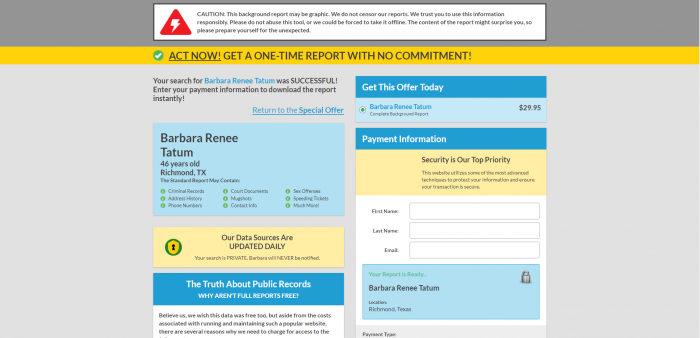 They are clearly designed to make people worry about the information in the report and push them to purchase the report to get to that information. That made the reviewer side-eye the service.
The biggest pro of the service really seems to be the unlimited subscriptions. Even though people reported some problems trying to unsubscribe, being able to run multiple background checks in a month for one easy, relatively low fee seems like a great bargain. It is certainly something that would seem worthwhile if someone was diving into the world of online dating.
Where Does TruthFinder Get Its Information?
According to its website, TruthFinder gets its information from a wide variety of different sources. On its website, it states that it looks for data in county, state, and federal public records and social media sites. It also scans the Deep Web for information.
Some of this information may be located behind paywalls, which means that, while it is accessible to people who are looking to find it, it may not show up on a Google search.
Do I Need TruthFinder to Get That Information?
Technically, the answer to that question is "no." All of the information that TruthFinder provides in a report is publicly accessible. In addition, there are other background check companies that could run checks and provide you with a similar overview of information on the target of your search. So, you don't "need" TruthFinder to get the information.
Not technically, we are going to say it is just not practical to run this type of background search. Even though our reviewer ran a search on herself, the results that TruthFinder was able to put together about her were more comprehensive than she could have done in the same amount of time. In fact, the level of detail in the report that TruthFinder compiled would have taken the reviewer several hours to put together, and that is only if she could have remembered all of those details.
To come up with a similar report on someone other than yourself would be extremely difficult. You would have to know a substantial amount of information about the person, such as all the cities where they have ever resided, the names of relatives, the names of former roommates, and their business history.
For example, TruthFinder does a comprehensive scan of criminal records and civil court records looking for convictions and judgments. It is completely possible to do that yourself, but a person can be arrested and convicted or sued in just about any jurisdiction. To reassure yourself that a person does not have that type of criminal history, you would have to go through dozens, if not hundreds, of databases, and that is if you knew where all the person had been in order to know where to look.
TruthFinder Customer Support
Our reviewer did not have any reason to contact customer support. Everything was straightforward on the website with no issues. Therefore, we went to the Better Business Bureau to check out whether there were any complaints against the company and how it had handled those complaints.
There are a number of complaints against the company. We saw 323 complaints, many relating to the fact that people had tried to cancel accounts but were still being charged for their subscriptions. Those complaints were addressed by the company and were marked resolved by a number of people, though there were still open complaints on the website. Despite those complaints, and a low customer review rating, the company has an A+ rating from the BBB, which we assume is because it does respond to and resolve customer complaints.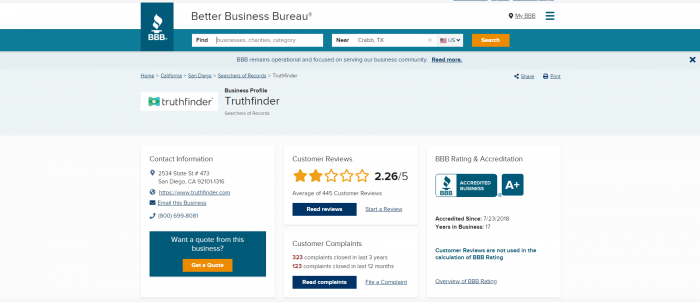 Our conclusion is that there is some validity to the customer complaints about responses from customer support and the inability to reach support personnel to resolve issues in a timely manner. Therefore, we would encourage anyone who attempts to cancel their subscription service to watch their account closely to be sure that it is actually canceled and to retain proof of the date of cancellation. If a user does encounter problems, we would suggest contacting the BBB immediately, as the company does seem to promptly and efficiently respond to BBB complaints.
Is TruthFinder a Scam?
TruthFinder is not a scam. It provides the background information that it says it will provide. Based on our reviewer's experience, it accurately represents information that is found in the public record. That does not mean that all of the information that it reports will be accurate, because there are certainly mistakes in some public records. However, it does not seem to distort any of that information. So, it does provide the service it says it will provide, making it not a scam.
It does, however, have some advertising and use features that we don't love. Some of its Google advertisements tell you that you can find out information for free, but you are going to have to pay to find out anything meaningful. This makes sense because the company has expenses, but we don't love the idea that they seem to promise something that they do not deliver. Yes, we are aware that if you read all the disclaimers that they do not actually promise free information, but it feels deceptive.
We have also mentioned their consistent use of warnings and disclaimers designed to make you feel like the person you are searching has some kind of dark secrets:

It feels a little dishonest and creates a false sense of urgency about the results. We are not wild about that aspect of the service.
Is TruthFinder Worth It?
Maybe. The reality is that it provides a thorough background check service in a reasonable time and at a reasonable price. In fact, the subscription service price is a total bargain if you need to run multiple background checks. You might not think that is the case if you are beginning a look into someone's background, but many people have nicknames and may have conflicting information out there in public, which could easily mean running two or three background checks to get information about the same person.
Yes, it costs money. Many people seem to think it should be free. However, the service compiles information that it would cost money and time for an individual to uncover. We are including what they say about their costs because we agree with their reasoning about why their services are not free: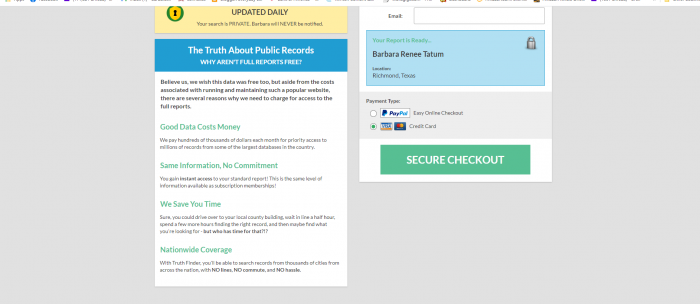 It seems highly unlikely that running as thorough of a search would cost you significantly less money under any circumstance and it would take so much more time. We have to say that we think TruthFinder is worth the cost.
Conclusion
If you are going to run a background search on someone, you either need to be prepared to spend a lot of time or spend a little money and hire a company to do it for you. It is impractical for most people to personally investigate all of the potential public information sources for information about the target of a background search. TruthFinder seems to be as good as any other background search company in terms of the information that it finds, and its pricing is very competitive; it seems to be on the lower end of the pricing spectrum.
There are some things to keep in mind. The Fair Credit Reporting Act has some pretty strict rules about how individuals can use information obtained in a background check unless they use specific agencies or get someone's permission to run a search or both. TruthFinder is not an FCRA approved site, so it should not be used in an official capacity. The other thing to keep in mind is that the public record can have mistakes in it. The more common someone's name is in a particular location, the greater the chances that incorrect information is attached to their identity. So, you may need to take additional verification steps if you uncover something troubling in a person's background.