Maine is a beautiful state and if you just moved there, are doing business there, or are running a background check on someone who is from there, this guide is for you.
This guide will show you where to find all the free Main public records—records you will need such as a driver's record, a property record, court records, vital records, and more.
All these types of public records are available online, but you do have to formally apply to a government agency in Maine or at the level of local or county government. This guide will show you how to do that without having to pay someone else to do it for you. However, if you are running a medium- to large-sized business you likely already outsource the work of running background checks or criminal background checks on your employees.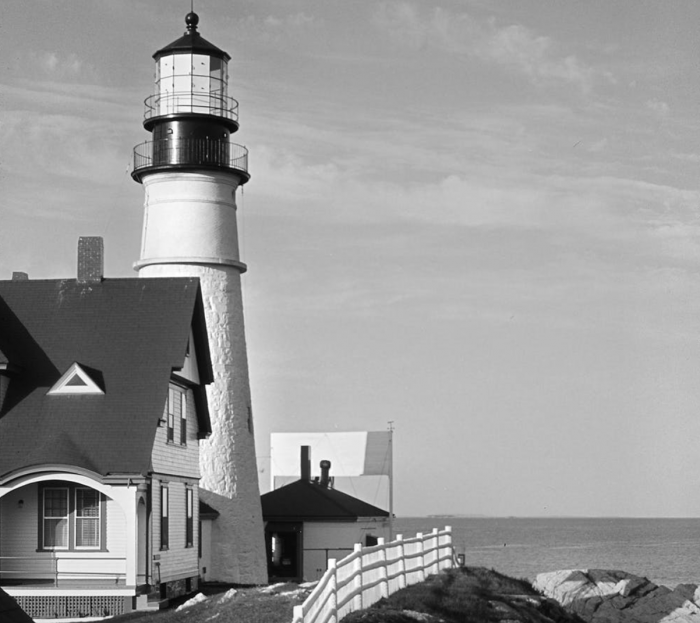 It used to be that you had to phone the appropriate government agency to locate the public records you need. In some cases, you might have even had to go in person to that government building to request copies of the records. Those days are gone. All public records files are becoming digitalized, with the main exception being archived files you might need to use if you are doing a genealogy search/
For the public records over the past few generations, digital files are the norm and each government agency will have copies. You can find text and also photos and other multimedia files in the public records.
How to Use This Guide
This guide will first outline what public records are, what they are used for, and how you can use them.
You will also learn about some uses for free Main public records that you might not have considered before. Public records are yours to use—your tax dollars already pay for them—and it is important you know what your rights are regarding using public records.
In fact, we will also learn about the different types of public records and which ones are "classified," in the sense that you might not be able to access them without the proper authorization or identification.
Many public records are open for anyone's view. The principles of open government and freedom of information ensure that most public records are open for you to use, and exceptions are only made in extreme circumstances. If you have any further questions about how you can use public records legally, it is always best to consult an attorney.
To use this guide, just scroll down to the sections you need and retrieve the free Maine public records you need.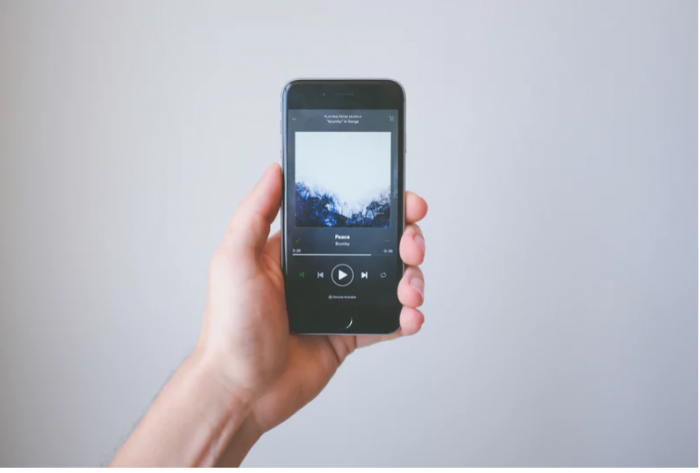 Running Criminal Background Checks in Maine
Now, one of the most common reasons—and important reasons—people access free public records in Maine is for criminal background checks. Background checks or criminal history checks are not as intimidating as they may seem either for the employee or the employer. This guide will dispel some of the myths about criminal history checks, and show you how to run one based on the free Maine public records you find online.
Background checks are essential in some lines of work. All companies want to protect their assets, but some need the additional security of knowing that their employees are trustworthy. The best way to find out about a person's past is to check their public records.
Using court and criminal justice records, you can find out if the person was convicted of any crime—felony or misdemeanor. You can also find out if a person was involved in a civil suit.
Likewise, you can learn about a person's driving history including DUI. You may learn that the person lied about their date or place of birth based on what you find in the public records.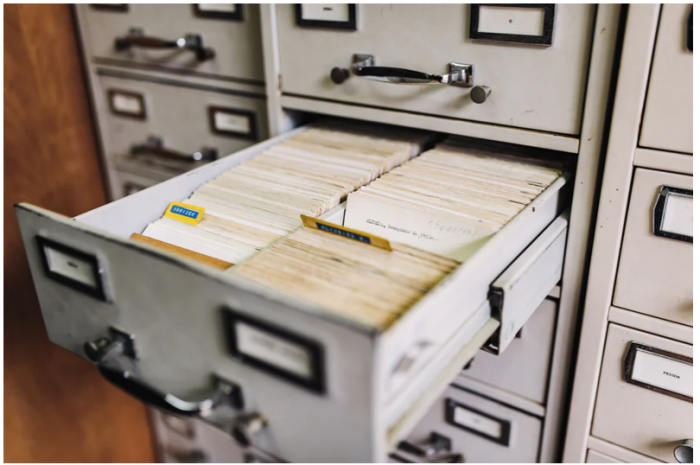 How Much Does It Cost?
When you first searched for "Maine background check" or "free public records in Maine" you might have seen a lot of websites offering to run background checks for you. If this is the case and you want to use those services, just keep in mind that some of those services are not free.
It is helpful to know how to search free public records yourself, and then later if you want to outsource the task do so knowing exactly what it involves and what you can expect to find.
This guide is free to use. When you ask one of the government agencies to give you copies of the records you want, they might ask you to pay for shipping or some administrative cost.
However, because public recordkeeping is already paid for by taxpayer dollars, you are already paying for the service anyway.
What Employers and Landlords Need to Know
Before you proceed with this guide to using free public records in Maine, there is something you need to know. If you are a business owner, a landlord, or anyone who is running a background check on a person remember that the information you find cannot be used to harm another person.
That means that, for example, when you use the registered sex offender list in Maine to find out if a convicted sex offender lives near you, you cannot use that information to vandalize that person's house or harass that person.
Similarly, if you run a background check and the person's credit history is available for you to see, then you cannot use that information against the person when making a decision. Doing so could be construed as discrimination, and you could face a costly lawsuit as a result.
You can also learn about the Fair Credit Reporting Act (FCRA).
The FCRA protects people from unlawful discrimination in housing or employment. You are totally allowed to use the free public records to find stuff like criminal history, but other information may be considered sensitive. Also, you would not be able to find out a person's juvenile criminal record because those records are sealed to protect the person.
Of course, before using information like this in a hiring decision it is best to consult an attorney to find out if your background check is FCRA-compliant.
What Are Public Records?
There are a lot of documents that are considered officially "public records," and you will only be concerned with a small subset of those when running a background check or using this guide for other personal reasons.
Any government agency in DC or in Augusta or anywhere else—city hall perhaps—will have records. They will record financial transactions, the meeting minutes, contracts, and basically any and every document or data that is produced as a part of that agency's operations.
Some of the public records will be classified or be limited to a restricted audience, but they are still "public" records, in that one day their contents could be released and made public. No one else but the government "owns" those records. Since the government is the electorate, that means you technically have the right to access all the public records you want unless there is a really good reason not to.
Public records used for background checks include court records, driving records, criminal history records, and vital records.
The Difference Between Local, State, and Federal Records
Public records are kept at different levels of government. Different government agencies keep different types of records. Each state varies as to which departments keep what records, but generally speaking the majority of the personal public records you are looking for if you are reading this guide will be state-based or county-based records and not federal records.
What Can I Find in the Free Public Records?
Just to give you an idea, here are a few things contained in public records.
Arrest records
Court records
Sentencing records
Prison/Inmate records
Property records
Violent criminal/sex offender databases
Missing persons databases
Birth certificates
Death certificates
Marriage records
Divorce records
Will and probate records
Unclaimed property records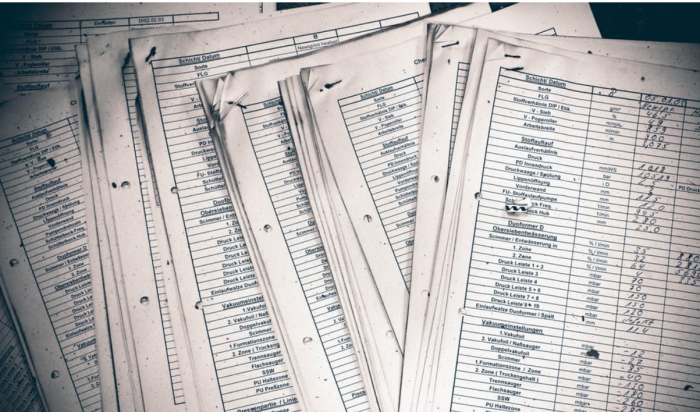 Reasons You May Want Public Records
Here are a few of the most common reasons why people want to access the free public records in Maine:
Passports and Travel Documents. Applying for a passport—your first one or a renewal—usually involves you having to produce a copy of your birth certificate. Use this guide to find out where you can find your Maine birth certificate.
Citizenship or Permanent Residency. Similarly, you will always have to produce copies of your vital records, such as birth certificates, marriage certificates, or divorce certificates when you apply for citizenship or permanent residency in another country.
Insurance Claims: If you have the unfortunate experience of dealing with insurance companies to file a claim about a life insurance policy or about a property, you will invariably need to produce copies of specific public records. This guide will show you which records to find, and how to find them. Death certificates and property records may apply in these situations.
Professional certifications and licenses. If you are applying for a license to practice law, medicine, or any other profession in Maine, you will also need to give copies of your vital records to receive your identification. Similarly, if you want to practice a profession like teaching or counseling, you will need to submit to a criminal history check.
Changing your name. If you got married or just want to change your name for personal reasons, you will need to access all your other pertinent vital records. This guide will show you how.
Gender change. Changing your gender usually entails changing your name and other aspects of your personal identity. While you cannot wipe clean your criminal record, you can change your name by using the tips in this guide.
Genealogy searches. One of the most interesting uses of the public records is for genealogy. The public records contain birth and death certificates, marriage records, and property records. Who knows? Onc of your ancestors might have also had a criminal record you did not know about until your search. You can use those records and more to learn about your ancestors.
Research. Private investigators, attorneys, and concerned citizens access public records to do research. Writers of true crime and crime fiction may also want to access the court and criminal records for research.
Find Inmates. When you are trying to find out how much time left a person has on their sentence, or where they are serving time, or how to get in touch with a person in prison, you can use this guide. The inmate search section will show you how to you can find this type of information for someone serving time in Maine.
Buying property. Before making a real estate transaction, always do your due diligence. A title search is the very least you can do to ensure that you do not inherit someone else's debt..
The Most Common Reasons for Running Background Checks
Government agencies and the majority of mid- to large-sized companies run background checks on prospective employees, for obvious reasons. Landlords also run background checks regularly because they do not want to rent their property to a known felon at high risk for damaging the property, stealing, or breaking the terms of the lease.
The most important reason for running background checks is to empower yourself with knowledge. It is your right to access this information, and whenever possible you should do research rather than leaving things to chance.
Consider some of the reasons for using this guide:
Renting a Home or Apartment in Maine. Are you moving to Maine or to a new part of the state? Did you know that smart people have started to run background checks on their landlords, in addition to allowing their landlords to run background checks on them? You would want to know if your landlord had been sued successfully several times for problems like negligence or breach of contract.
Your Own Real Estate Rentals. Remembering to be FCRA-compliant in your background checks, you will protect your properties when using background checks to screen applicants.
Online dating. When you meet someone in person for the first time, it is always a good idea to run a background check, Male or female, that person could be a convicted felon or someone who has been lying to you all along about their marital status or career. Don't you want to know?
Contractors. When hiring a contracting company or any independent contractor for any type of work you may need, a background check is a good idea. Not only do you find out if the person really is licensed and bonded, as well as insured, but also has not been sued in a court of law.
Babysitters, Tutors, and Nannies. The law usually demands that you run a background check on anyone hired to work with a vulnerable population. Use this guide to show you what you need to run a good background check.
Checking Your Own Information. It is a good idea to know what information is out there about you, so that you can see what others see. Also, you could find a mistake in one of the documents and can then apply to the government for them to fix the error.
How Can I Find….
Maine Background Checks
With the person's name and date of birth alone, you can find out if that person has a criminal record in the State of Maine.
In fact, Maine is one of the few states that will release some, but not all, of the information on a person's juvenile record.
For more information, visit the Maine Criminal History Record and Juvenile Crime Information Request Service.
Comprehensive Background Check
Maine is also one of the few states that offers, for an additional fee, a more thorough background check you can use when screening a person.
The Maine One Stop Background Check Online Service costs only a few dollars and with that, you get official copies of the most relevant public records documents used in background checks. Those documents include the following:
Criminal history records (with the exception of any that are sealed)
Driver records and accident reports
Sex Offender Registry status
If you plan on running a lot of background checks for your business, you can even subscribe to this official government service.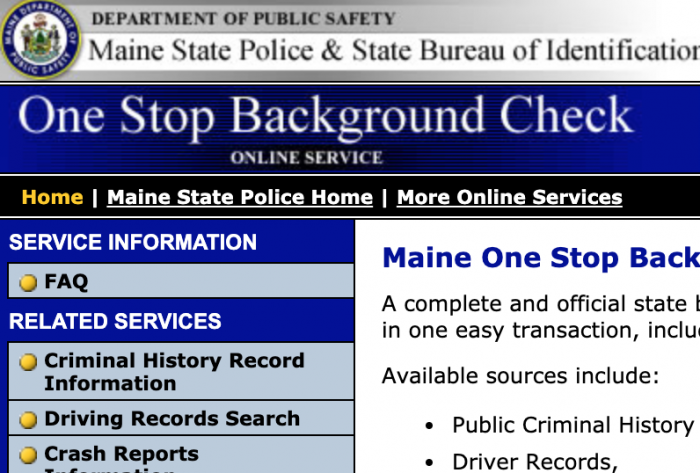 Court Records
A really important part of a background check are the court records detailing the specifics of the case.
A lot of court records are free and open to the public. You can search those records for whatever reason, including research. Your attorney will search the court records when building your appeal.
You can search for both civil and criminal court records. Unless the record had some sensitive information, then you will be able to see the official record in that case.
Search the State of Maine Judicial Branch court records.
Driving Records
You may want to find out a person's driving record, especially if it is pertinent to the job they are performing.
If you need this information, then you can visit the Maine Bureau of Motor Vehicles.
You'll need to know the person's full name, date of birth, and current address, so this might require you to get their permission.
As of 1994 Drivers Privacy Protection Act, the federal government declared that it was an invasion of privacy to release a person's home address or Social Security Number along with the driving record.
Jail, Prison, Inmate Records
If you are interested in finding out about a person currently serving time in a correctional facility in the state of Maine, then you can perform that public records search easily.
Persons on probation are also searchable through this database.
You go to the Maine Department of Corrections.
Then you follow the directions to search for a prisoner.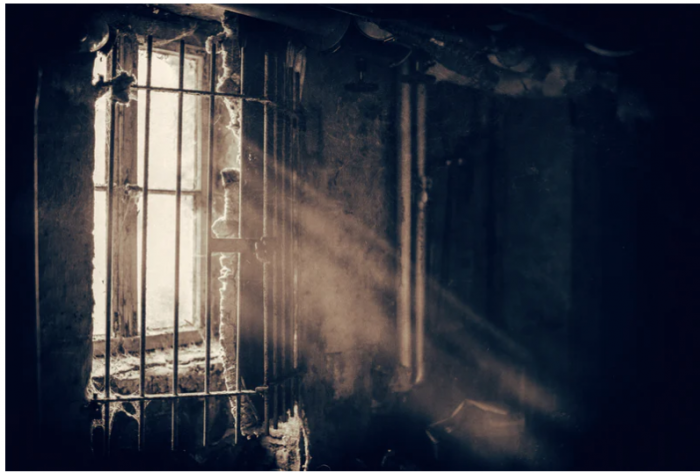 This information is especially useful for family members who want to visit, or send money.
Similarly, the public records related to inmate searches are helpful for victims seeking restitution or information about the time left on a person's sentence.
Because inmate records are totally free and open to the public, anyone including journalists and other researchers can access them.
Sex Offender Records
Convicted sex offenders are required by law to register with the government, and the government is required to make this list available to the public.
The reason for this is obvious: the public has the right to know the whereabouts of someone who could be dangerous, and were it not for the registry, they would not know what to look out for.
Search the Maine Sex Offender Registry.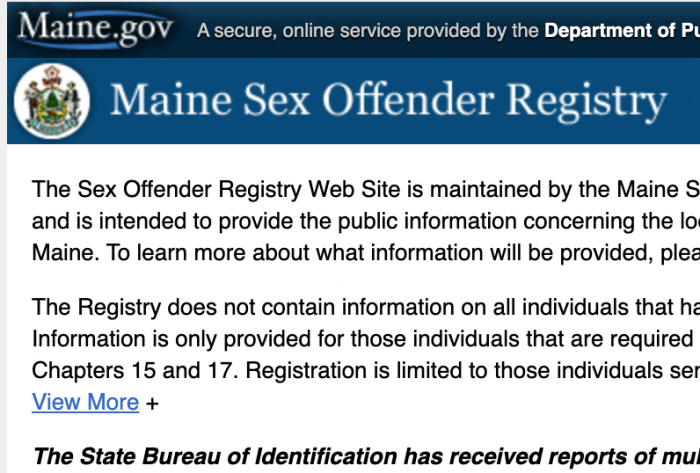 Missing Persons Records
The disappearance of a friend or loved one can be terrifying. The Maine State Police manages a large missing persons database that includes both adults and children. This database will help you learn about progress in any open cases, while also allowing you to find out all the information law enforcement already knows about the missing person.
Property Records
In Maine, you can locate the free property records you need such as deeds and titles. This information is essential when you are buying a home or any type of property in Maine.
You do need to know what county the property is located in first.
Then go to the Maine Revenue Services website and search the list of County Registries of Deeds.
Unclaimed Property Records
You might be surprised to learn that in the State of Maine alone, there are hundreds of millions of dollars worth of unclaimed property just sitting there.
We're not talking about real estate property, but about hard, cold cash.
This is money that has been left behind or forgotten. And if you're wondering how that could ever happen, it may have happened to you without you even realizing it!
Check your name with the Maine Office of the State Treasurer now and see if you have any unclaimed property in your name.
For example, if you moved away and forgot to get your deposit back on your rent or utilities, that money goes to the Office of the State Treasurer, who holds it for you until you claim it.
Similarly, if you had your grandmother's heirlooms in a safety deposit box and forgot about it fifty years later, then you can contact the Office of the State Treasurer to retrieve the property.
It is also very common for people to die and neglect to mention all the small funds in different bank accounts, or wages that had gone unclaimed. The primary beneficiary of the estate would be able to claim those funds, so why not find out if you have unclaimed property in your name.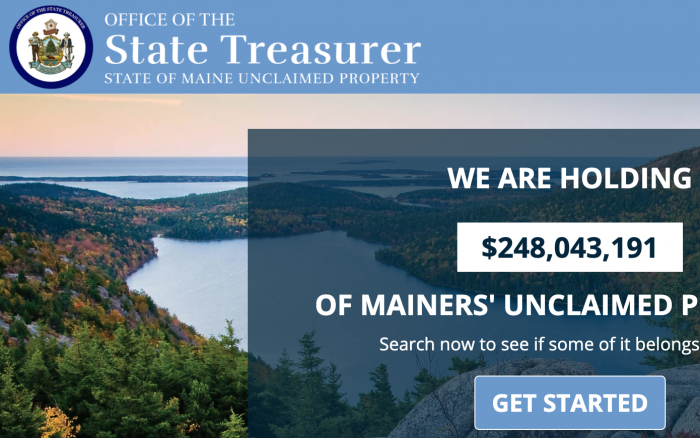 Vital Records
Finally, a substantial number of you will be using this guide because you want your own vital records, or the vital records that belong to another person.
Vital records are all the big things that matter in your life: birth, death, marriage, and divorce.
These are events that also have important legal importance as well as implications for public health and governance.
Therefore, the Maine Division of Public Health Systems is the government organization that keeps these documents.
You may need a certified copy of your birth certificate for many reasons: applying for a marriage license or a name change, or applying for citizenship in another country.
If you want to find someone else's birth certificate, though, you need them to consent and to offer you copies of current government identification to prove their authorization to release the vital records to a third party. The government needs to prevent vital records from getting into the hands of a malicious user who could use those documents to steal your identity.
Death records are also useful for when you are involved in a dispute of a will or a probate case, or when applying for the insurance benefits.
Of course, you need to access your marriage records when applying for a divorce, and also your divorce records when applying for another marriage license in the state of Maine.
Conclusion
This guide has hopefully helped you to locate the free public records in Maine. Free public records include court documents, vital records, and property records, all of which are available to you. Some records do require that you present identification to access them, in order to protect your privacy and security, but for the most part you can locate information about yourself and to a lesser degree other people, too. This information can be very useful when running a background check on an employee or tenant.