Inevitably you are going to come across a situation that requires you to access public records in Kentucky. Most likely, you came upon this article because you are searching for free public records. Applying for a new driver's license after moving to a new state, or buying a home are common situations where you might use free public records in Kentucky.
Another very common usage of public records in the United States is for background checks. Background checks include information such as criminal history or history of any type of civil litigation. Remember, all court records and the like are government documents. So unless there is a specific reason why you shouldn't access those files, then the government is legally obligated to provide them to you.
If you are confused about what public records are, really, or which ones to look for, don't worry. This article is designed to inform you and also to guide you in the right direction when performing any kind of background check. You will soon find that searching for free public records in the Commonwealth of Kentucky is not as challenging as you might have thought.
Kentucky Background Checks
If you are a small business owner in Kentucky, chances are you are reading this article specifically because you want to run background checks. Background checks are used during the recruitment process, to provide you with information about a person that might impact their performance on the job. Most likely, you are interested in criminal history.
Similarly, you might be a property owner or a property manager in Kentucky and are interested in incorporating background checks into your applicant screening process. When you rent out your property, don't you want to know whether the tenant has a long line of criminal convictions.
By the same token, wouldn't you want to know whether your landlord had been successfully sued in a court of law? Or whether you an trust a babysitter or a home renovations contractor?
Background checks involve a meticulous but simple process of searching the public records in Kentucky or wherever else the person may have lived.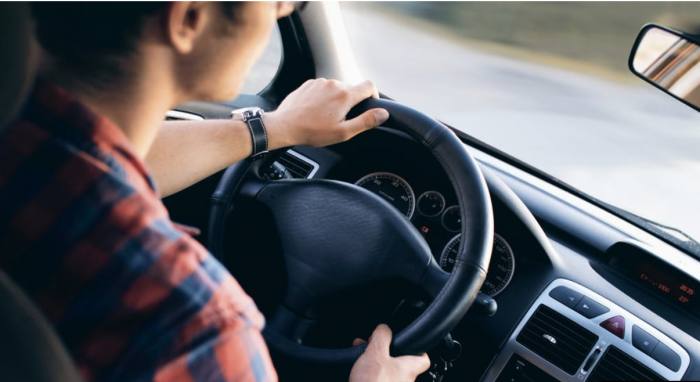 What Does It Cost?
Misconceptions about public records tend to proliferate around the Internet. Public records are a public service. That means that your tax dollars are already funding the administration of public records at the local, state, and federal levels. While you might need to pay a nominal fee for additional services like printing or mailing certified copies of public records, overall they are free to you.
Public records are free because of the principle of free information. A government that aims to be a true democracy must build its foundations on freedom of information. Freedom of information, or transparency in government, is ensconced in federal and state laws. For example, we have the federal Freedom of Information Act. We in Kentucky also have a state level freedom of information law with the Open Records Act.
Now, you may have found websites that claim to provide you with the background check service for a fee. Feel free to use those services if you need them, or you can refer to this guide and do the process yourself. It's entirely up to you.
What Are Public Records?
If you don't actually know what types of information you can expect to find in the Kentucky public records, don't feel bad. A lot of people are unaware of what the term "public records" really means.
Public records are exactly what they sound like: any document or data (including multimedia, like video or photographs) that are created and stored by public service or government agencies. With the exception of things like trade secrets of national security secrets, most of the records kept by all government agencies is open to the public for review.
Journalists access public records all the time in their research, as do attorneys. For example, if the state were building a case against a person, the district attorney would check the court records and arrest records to see if that individual had any prior convictions. A journalist can verify names, or check the transcripts of legislative meetings to see how specific congressmen voted.
Kentucky Local, State, and Federal Records
Just to confuse you further, different government agencies do keep different public records and it is not all that straightforward to know where to find what document. This guide will help you with that, focusing on the Commonwealth of Kentucky.
Most of the public records you will be looking for (that includes birth certificates, property records, criminal records, and the like) will be stored by local, county, and state government agencies rather than federal ones.
This guide will show you which records can be found where.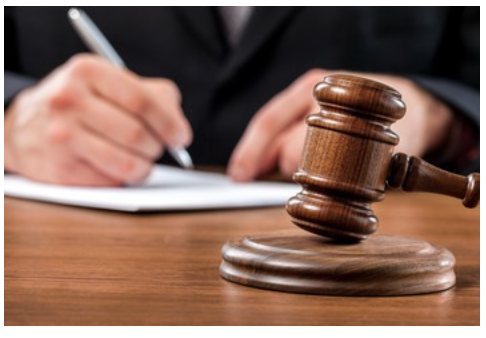 Employers and Landlords NEED to Read This
Employers and landlords need to conduct their background checks in compliance with the Fair Credit Reporting Act (FCRA).
Unless you are happy getting sued, you need to make sure that you are not using someone's credit history against them. There are many ways you can learn another person's credit history online. Doing so and then using that information to make a hiring decision or a decision about who to rent out to could be grounds for a lawsuit.
One of the great benefits of using this guide is that you are more certain of being FCRA-compliant in your hiring practices.
Those companies that provide you with a background check service might promise you information and then you later realize that by using this information, you are actually in violation of the FCRA and possibly other laws as well.
What is in Free Public Records?
Just to give you an idea, here are a few things contained in public records.
Arrest records
Court records
Sentencing records
Prison/Inmate records
Property records
Violent criminal/sex offender databases
Missing persons databases
Birth certificates
Death certificates
Marriage records
Divorce records
Will and probate records
Unclaimed property records
Remember that even though it is your right to access most public records, there are some records you will not be able to see for various reasons. For instance, juvenile justice records are generally sealed to the general public to protect the interests of minors.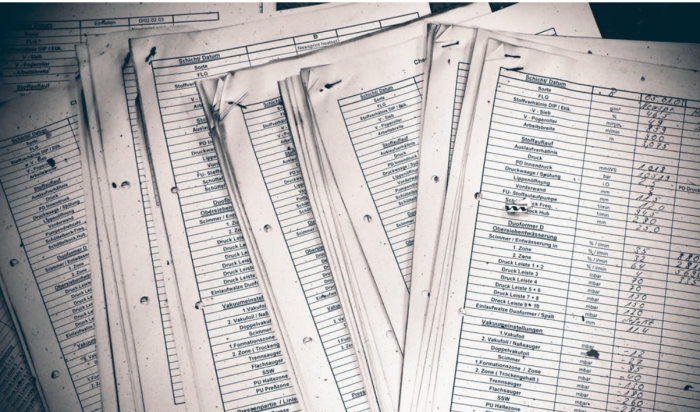 Why Do You Need Your Public Records?
Some of the many reasons you may need public records include the following:
Applying for a new passport. You will quickly see that any passport application, for the United States or any other country, will ask that you provide one or more of your vital records. Most likely, you will need at least a copy of your birth certificate when you apply for a new passport and you may need other public records.
Professional license or certification. Another reason why you need to search the public records is when you are embarking on your new career. You will undoubtedly need to provide copies of several public records including vital records.
Legal name change. Changing your name is a cinch, but only when you know which vital records to look for and where. In addition to your birth certificate, you may also need any copies of marriage and divorce records from Kentucky or any other state.
Genealogy. One of the most common types of public records searches is genealogy. People have become fascinated with tracing their roots, and the Internet makes it easier than ever to do so. This guide will show you some tips on how to find the public records relevant to genealogy.
Missing persons. You can use public records to see if there is any information on a missing persons case.
Inmate search. The public records include information about how much time is left on a person's sentence.
The Most Common Reasons for Running Background Checks
Renting a Home or Apartment. Many tenants do not realize that they should run a background check on their landlord, and not just the other way around. Why? To make sure the landlord or property management firm has no pending or prior lawsuits that would be cause for concern.
Renting out Your Home or Property. Property rentals provide an amazing source of passive income you can use to improve the quality of your life. But you need to screen your tenants properly. Your insurance policy might demand it.
Online dating. To keep yourself safe, screen all the people you meet online before going out on a date. There are a lot of creeps out there—men and women. All you have to do is run a quick background check to save you a lot of time, trouble, money, and possibly even your life.
Contractors. When you hire a contractor for any reason, run a background check before signing. Some contractors might have pending lawsuits or had been sued several times in the past for breach of contract.
Babysitters, Tutors, and Nannies. Childcare is one of the most important reasons for running background checks. All childcare businesses by law must run background checks on employees. The same is true for people working in education. You also need to do background checks when you hire nannies or babysitters.
Checking Your Own Information. More and more, people in Kentucky are choosing to access their own public records and perform background checks on themselves. Why? To find out what other people can see and learn about them. If you are curious what employers can find out about you and your past, then do a background check on yourself. It's free—and this way you will be prepared to answer challenging questions when they arise in an interview. If you have a checkered past, then you can also learn about possible ways to expunge part of your record. Alternatively, you might see things on your personal record that you did not even realize were there such as a DUI you forgot about.
How Can I Find….
Criminal Records
Kentucky is unique in that its justice department offers an official criminal history report service you can use to simplify the background check process.
The Administrative Office of the Courts offers a criminal background check service to you for only $25.
You an apply online, by mail, or in person.
This is by far the best way to initiate this portion of your background check. You can also use this service to check your own name. You might have forgotten about an old arrest or conviction. Learning about it now will allow you to find out if you are eligible for expungement.

Court Records
Perhaps all you want is to access court records directly. You want to research a specific case, read the court transcripts, or you want to build your own appeal. Or, you want to dig deeper beyond just the criminal background check.
When you want to access court records, you can do so by visiting the Kentucky Court of Justice.
Thankfully, for both the criminal background check service and the court records search, the Kentucky Court of Justice does include records from most of the court jurisdictions within the state.
Driving Records
Many employers need to know about a person's driving records before making an educated hiring decision. You might also want to access a person's driving records for other reasons like safety.
You can access two different types of driving records here in Kentucky.

One type of driving record is accessible to all people. Known as the three-year driving record, this document omits sensitive information such as the person's social security number. Use this option if you do not have the person's authorization to access the Full Driving Record.
You can access your own Full Driving Record. But if you want to access someone else's driving record, then you will need a notarized release form.
Jail, Prison, Inmate Records
There are many reasons why you might want to search the inmate records in the Commonwealth of Kentucky.
Relatives and friends want to get in touch, reach out, or send money. Maybe you are doing research for a book or article and want to get in touch with someone in prison. Or perhaps you are a victim looking for information for self-empowerment or restitution. You might be curious to know how much time is remaining on a felon's sentence, or whether someone is up for parole.
Attorneys might want to access inmate records.
To do so, just visit the Kentucky Online Offender Loop (KOOL). All you really need to initiate the offender search is the person's name.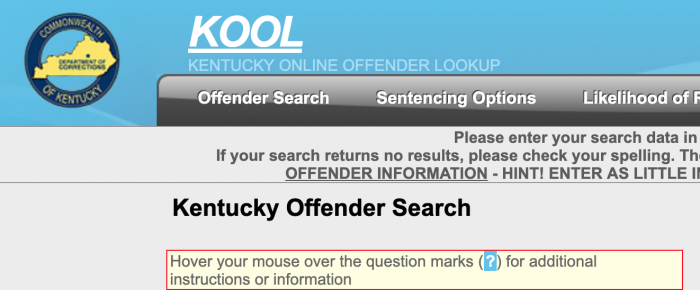 Sex Offender Records
All states in the nation participate in nationwide criminal justice programs designed to track convicted sex offenders in the interests of public safety. You cannot use the sex offender records to harass these people, but you can use the information to make decisions like where to live or send your children to school.
Visit the Kentucky State Police, which offers a statewide list of registered sex offenders.
Missing Persons Records
Unfortunately children and adults go missing daily. Some area runaways, others are abductees. Most are in some kind of trouble and you want to help. Of course, the Kentucky State Police also maintain meticulous public records related to missing persons cases and also cold cases.
You can access the Kentucky State Police missing persons records easily online.
Even if the person has crossed state lines, the Kentucky State Police should be able to link up with the federal missing persons databases to help you locate the individual.
Property Records
To find Kentucky property records, you have several options depending on the information you are looking for.
If all you want to do is learn about property tax records, then you can go to the Kentucky Department of Revenue.
If it is a title search for a Kentucky property then the process may be a little complicated.
You first need to know the Kentucky county in which the property is located. Then, search the county property records. The Commonwealth of Kentucky does not maintain these types of property records (titles) in a centralized way.
You will need to search at the county level if you want to research the history of the property. For instance, you may be seeking public records related to whether there is any money owed on it in the form of a lien. You could use information like this also when disputing a will.
Unclaimed Property Records
Kentucky maintains what it calls the Unclaimed Property Fund. The Unclaimed Property Fund is a joint effort on the part of state treasury and The National Association of Unclaimed Property Administrators.
Here's how it works. Let's say you moved to California during a stressful period of your life and forget you had some jewelry in a safety deposit box back in Kentucky. You also forgot that you put down a deposit on your monthly utilities, and neglected to pick up that last dividend check.
You would be surprised how many people have unclaimed property in their names and neglect to even look for it.
The good news is that all that money is still yours.
When someone forgets about their funds or property, the government—typically the state treasurer's office—will take temporary hold of the unclaimed funds. When the rightful owner comes forward, the government releases that unclaimed property, whatever it may be.
Note that unclaimed property does not refer to real estate property.
What if you are the primary beneficiary of someone who had unclaimed property?
If you can prove that you are the rightful heir by presenting proper identification, then you can also conduct a search for unclaimed property that legally belongs to you.
Search only in Kentucky, or search the National Association of Unclaimed Property Administrators if you or your relatives have moved.
Vital Records
Last, but not least, vital records are important public records that pertain to major life events: birth, marriage, divorce, and death. Adoption records and other documents that are likewise related to population data would also be included under the umbrella of vital records.
Generally, it is the state departments of health that manage these types of vital records. Thus, the Kentucky Cabinet for Health and Family Services is where you go to look for your vital records.
Like most states, Kentucky uses the VitalChek service to process your order. This third party service is easy to use, and the best thing is that it allows you to search for the vital records you need from other states as well. So if you were born in Tennessee and got married in Kentucky, you can search for both at once.
There is a small service fee for the production of most vital records.
Also, vital records do contain sensitive information. State law may prevent unauthorized persons or organizations from receiving copies of birth certificates or any other vital record. If you are in search of another person's vital records for whatever reason, you may need to provide a notarized copy of their formal written consent.
Generally speaking, vital records do not factor in much with the types of background checks employers need to do. You may choose to use vital records in other types of searches.
For example, you would use the vital records search if you were suspicious that someone you were dating was already married. You would also use the vital records search to provide a copy of a death certificate needed for insurance purposes. Of course, your own vital records are always going to be needed for things like legal name change, professional license or certification, passport or citizenship applications, or getting remarried.
Conclusion
Searching for free public records in Kentucky is your legal right. Now that you know what public records are, why they are a free service, and what you can do with specific types of public records, you are well on your way to becoming a master at finding the information you need. This information is indispensable.
At times, you may wish you had some assistance with your background checks, particularly if you are running a business and need to process many background checks at once. but most of the documents or data you need is readily available online. Just remember that you may need to expand your public records searches to other states.