Introduction
This guide is designed with your needs in mind, to help you easily navigate the complicated world of public records. Demystifying public records in this way takes a lot of the stress out of the process. Whether you need to locate copies of vital records like marriage licenses or birth certificates, or conduct a criminal background check on a prospective employee, this guide will help yofind free Delaware public records.
The Internet and the digitalization of public records has made this process a lot easier. Still, public records are mired in the quicksands of government bureaucracy. Free public records are kept by various public service or government agencies, which often outsource their records-keeping to third parties, too.
Also, some records are kept by municipal or city government agencies, some by state agencies, and others yet by federal government agencies. There is rarely a one-stop option for searching the free Delaware public records, but this guide will tremendously simplify the process by providing you with direct links to the websites you need.
Delaware Public Records Guide
While far from comprehensive, this guide does offer you access to the most commonly used free public records, focusing on the state of Delaware. If you need to access public records from other states, you can refer to those state-specific guides. There are some guides for specific counties in the United States. This guide covers free public records in Delaware.
To use this guide, first review this introductory material. You will learn what public records are, how to use them legally, and why they are important. Then the second half of the article covers how you can find those records and use them for your needs: such as preparing an application, filling out forms, or doing background  checks.
Running Criminal Background Checks in Delaware
If you are using this guide mainly because you are a small business owner or landlord in Delaware who wants to run background checks (criminal records or criminal history checks) on employees or tenants, then you came to the right place. This is after all one of the most common uses for free public records.
Running background checks is easier than you think. You do not need the person's fingerprints or DNA. But you may need the person's express consent in order to access all of the free public records, especially those that may contain sensitive information. To protect individual privacy and maintain security protocols, some public records are only released to qualified individuals. This guide will clarify what you can and cannot access, so you can easily find what you are looking for without any confusion.
Typically a background check will include references to court documents and corrections files, which would indicate whether a person had been convicted of a crime. You may also be able to learn about driving records, such as DUI charges. A background check might also include things like whether a person had been successfully sued in a civil court.
Beyond that, you may not be able to access all the dirty details about an individual's life. You cannot, for example, know about an individual's juvenile court records. Arrest records are also difficult to access unless you are a member of the law enforcement community given the fact that a person is innocent until proven guilty in a court of law. Use what you can find through the free public records in Delaware, and you should have all you need to make an informed decision for employment or tenancy.
How Much Does It Cost?
The concept of free public records began with the rise of democratic forms of government, which depend on free information and transparency in government. Record keeping itself is important for remaining accountable to the facts, and for being able to trace the source of errors and problems in the system. Likewise, the government keeps records on its citizens—not as an infringement on your privacy but in order to protect you, promote public safety, and allow for freedom of information. If you are an American taxpayer, you are already paying for these public records. Public records are part of the mandatory duties of government agencies; it is required by law to keep these types of records.
However, when you request copies of public records, you may need to pay additional fees associated with printing, mailing, and administrative accounting. These small fees will be indicated by the government agencies themselves, and are not charged by third parties unless otherwise indicated.
Keep in mind that when you search Google or other search engines for free Delaware public records, a lot of the hits you get back are not direct links to government websites, but instead to third party, profit-driven private organizations that charge a fee for accessing public records.
These services are handy for some people, such as the subscription-based services useful for businesses needing to outsource the work of their background checks. If you want to save yourself the money, or prefer doing this work yourself to maintain control over the process, use this guide instead.
What Employers and Landlords Need to Know
If you are using this guide or accessing free public records for running your own background checks as an employer or landlord, please first learn about the Fair Credit Reporting Act (FCRA).
The FCRA prevents employers and landlords from deliberately or inadvertently discriminating against candidates on the basis of what they find in the free public records, particularly records related to credit history.
Of course, any free public records accessible with a person's permission can be used in your decision making process, but bear in mind the parameters of the FCRA and call an attorney if you have any questions or doubts about the background check process.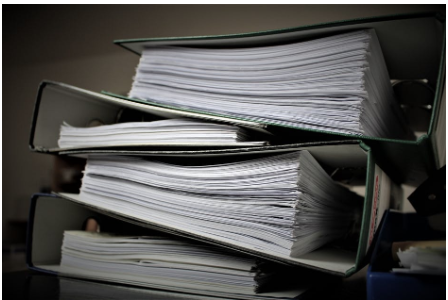 What Are Public Records?
Let's now consider what is and what is not considered a matter of public records. What can you expect to find when you use this guide?
Public records in the most general sense refers to any government records, from legislative proceedings to court documents to property assessments and birth certificates. Some, but not all, public records are by law available to you as a matter of law established by principles of freedom of information.
There is a federal Freedom of Information Act, and Delaware has its own Freedom of Information Act.
Because of the freedom of information acts ensconced in law, you can access these types of public records. Exceptions are important, though. You cannot access government records when those records contain sensitive information: information that could be important for protecting the rights of others or information that could be important to safeguard in the interests of national security. Chances are, those types of records will not concern you. You are looking for the free public records related to personal needs—such as driving records or an individual's vital records or court records. Those you can find using this guide.
The Difference Between Local, State, and Federal Records
Different government agencies keep different types of public records, according to the formal functions of that government agency. Departments of Public Health will keep things like vital records (birth records and the like), while the state justice system will be responsible for keeping records of court proceedings. Likewise, state corrections departments keep files on all the inmates serving time in state penitentiaries.
When you use this guide to find public records, you may notice that some public records are kept by county agencies. Property records are a good example of that, but there are also courts that are county courts. This guide will point you in the right direction to find the free Delaware public records meaningful to you.
What Can I Find in the Free Public Records?
You can expect to find the following in your public records search:
Arrest records
Court records
Sentencing records
Prison/Inmate records
Property records
Violent criminal/sex offender databases
Missing persons databases
Birth certificates
Death certificates
Marriage records
Divorce records
Will and probate records
Unclaimed property records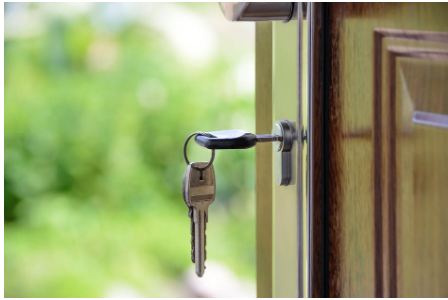 Reasons You May Want Public Records
Here are a few of the most common reasons why people want to access the free public records in Delaware:
Passports and Travel Documents. Applying for a passport—your first American passport, renewing your passport, or getting a passport for another country of citizenship—usually involves you having to produce a copy of your birth certificate. Birth certificates are a fundamental public record. If you were born in Delaware, your birth certificate will be on file with the state.
Citizenship, Permanent Residency, and Work Permits. Vital records like birth certificates, marriage licenses, or divorce records may also be necessary for filling out application forms when you apply for citizenship, permanent residency, or work permits in another country. This guide will be useful if you were born, married, or divorced in the state of Delaware.
Insurance Claims: If you have to make a claim related to a death in the family, you will most likely be required to produce a copy of the death certificates. A death certificate may also be required for remuneration on a bereavement airfare. Similarly, you may need to produce official copies of property records for a pending family law or probate court case. This guide will help you locate what you need for such situations, greatly reducing your burden.
Professional certifications and licenses. Many professional organizations, particularly those that require state-issued licenses for practice, do require that you submit copies of your vital records, and many also require you to assent to a criminal background check. This is especially true for professionals working with sensitive or vulnerable populations including healthcare workers, childcare workers, psychologists, and educators. This guide will point you in the direction of all the public records your licensing agency or professional organization requests from you.
Legal Name Change. This guide will also show you how and where you can find the vital records necessary for applying for a legal name change. Typically this will entail vital records, such as your birth certificate or marriage license.
Gender change. As with a legal name change, vital records from your state of birth will be necessary when changing the legal status of your gender.
Genealogy searches. Vital records and other types of free public records are archived and stored with their respective government agencies. In some cases the archives may be maintained by third party organizations that are officially hired by the government. You can access those archived public records to hunt down long-lost loved ones or ancestors. This information can be essential for a genealogy project, for you can find out where your forebears were born, what they may have done for a living, and whether or not they were convicted of a crime.
Research. Public records are also useful for those conducting independent research for a court case, attorneys or legal aids, private investigators, or journalists. Use this guide to simplify your record hunting.
Find Inmates. All inmates are on record. When you want to find out where an inmate is currently serving time, first find out whether their court case took place in a county, state, or federal court, and then use this guide to learn more about the length and type of sentence. This information is helpful for family members wanting to stay in touch or send money. Victims and attorneys may also use this information helpful.
Real Estate Transactions. Real estate transactions can be tricky business, even with the public records on file This guide will distinguish between the county property records you need to learn about the assessment and taxes on a property of interest.
Reclaiming Funds. If a person neglects a bank account, a security deposit, stock dividends, government bonds, or a safety deposit box, the state treasury department will safeguard those funds until the rightful owner claims them. With proper identification, you can reclaim your lost property. If the original owner of those funds has deceased, and you are the primary beneficiary, you can also reclaim those funds by presenting the state treasury department with proper identification. This guide will show you how to do that in the State of Delaware.
The Most Common Reasons for Running Background Checks
People like you run background checks for a variety of reasons. The most common will be applicants for employment or tenancy, but there are other reasons why people run criminal background checks. Consider these situations:
Renting a Home or Apartment in Delaware. If you just moved to Delaware or are looking to rent a home or apartment in the state, this guide will help empower you with knowledge related to your landlord. Many tenants forget that they have the right to run background checks on landlords and property management firms. These types of background checks are rarely performed, but can be really helpful for learning more about your landlord's reliability. Some landlords have been sued successfully in Delaware courts, for problems like negligence or tort law violations. Knowing this information in advance will help you choose the best apartment, home, or office rental, saving you time, money, and hassle later on.
Landlords. Landlords in Delaware almost routinely access the free public records to run background checks on tenants. While you do need to be careful using information like credit history, you can certainly take into account the information you find regarding the person's criminal record when making a decision on whose application to accept.
Employers. Of course, Delaware business owners need to run background checks on prospective employees. A background check will tell you if the person has been convicted of a crime, and if so, what type of crime. It is important you run these types of criminal history checks to safeguard your property and business, but also for insurance purposes.
Online dating. Another reason to run background checks is to keep yourself and your family safe from people who might cause you harm. That includes the people you meet online, such as through dating apps. You can use the criminal background check process outlined in this guide to check up on a person and make sure they are not lying about their marital status, too.
Contractors. Running a background check on contractors helps you see if the individual or company has been sued, which of course you would want to know before hiring that person to do your renovation work.
Babysitters, Tutors, and Nannies. Childcare work does require the use of criminal background checks to protect the innocent. You need to run your own background checks when hiring freelance childcare workers like babysitters.
Checking Your Own Information. You can also use this guide to find out what information is on file, which would be visible to employers and landlords. This would help you to prepare for those tough questions during an interview, or to consider suing for discrimination.
How Can I Find Free….
Delaware Criminal Records / Background Checks
Remembering that a background check is not a one-stop-shop situation, it helps to understand what exactly you are looking for before starting your search. A background check usually entails searching the court records using the person's name, searching driving records, inmate records, and perhaps also sex offender records. Also note that the person could have lived in other states, and so you may need to extend your search.
Delaware Court Records
Court records are the sensible place to begin your background check.
First go to the Delaware State Court Connect portal.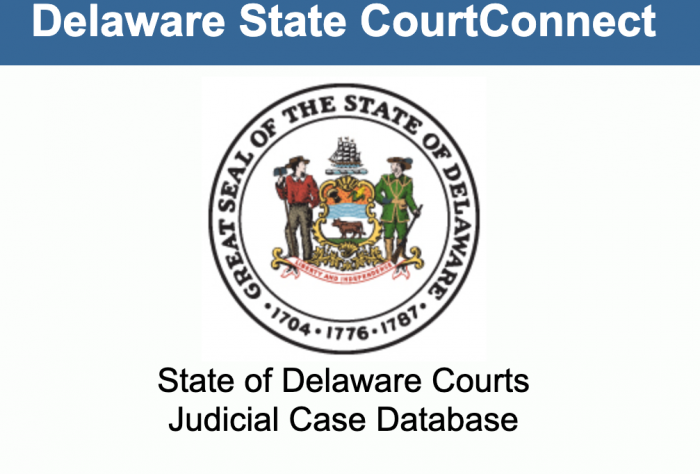 Then you can search by the person/business name or case type.
Or, you can directly search for judgments against a person or business.
Delaware Driving Records
Driving records are another key component of a thorough criminal history or background check.
The information included in a person's driving record can be sensitive, which is why you may need the person's legal consent to authorize release of the documents.
Go to the Delaware Department of Motor Vehicles (DMV) website.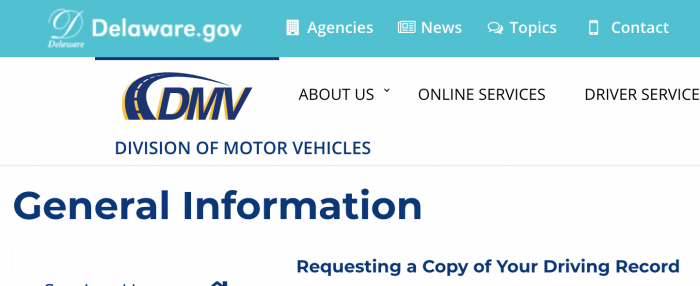 Then you can purchase a copy of a Delaware DMV record.
Delaware Jail, Prison, and Inmate Records
Inmate searches are easy. First find out whether the person is serving time in a Delaware state facility, or in a county jail—or in a federal prison. Then you can search by the person's name.
The information is open to the public, making it easy to find what you are looking for.
You can use the information to learn how much time is left on the person's sentence and where they are serving time. This information is helpful for victims, family members, attorneys, and researchers.
The State of Delaware Department of Corrections allows you to easily and quickly search the status of an inmate.
Delaware Sex Offender Records
All states are required to keep records of registered sex offenders—those who have been convicted of felony crimes. You cannot use this information to engage in unlawful harassment against an individual, but you certainly can use this information to make hiring decisions or simply to empower yourself with knowledge related to your safety.
Visit the State of Delaware Sex Offender Central Registry to search by offender name or location.

Delaware Missing Persons Records
When persons (adults or children) go missing and are officially logged with the Delaware State Police, you can search for public records related to the case. The records will help notify you in case a missing person was recorded crossing county or state lines.
Search for missing persons in Delaware now.
Delaware Free Property Records
Unfortunately, property records including information related to titles and deeds is not centralized by a state government agency. County governments are responsible for managing property records for tax and assessment purposes, so you first need to find out the exact location of the property. Once you know the Delaware county in which the property is located, you can search for the property records you need.
Here is a list of Delaware county governments to begin your property records search.
Delaware Unclaimed Property Records
To search for unclaimed property belonging to you or a deceased relative in the State of Delaware, go directly to the state Office of Unclaimed Property.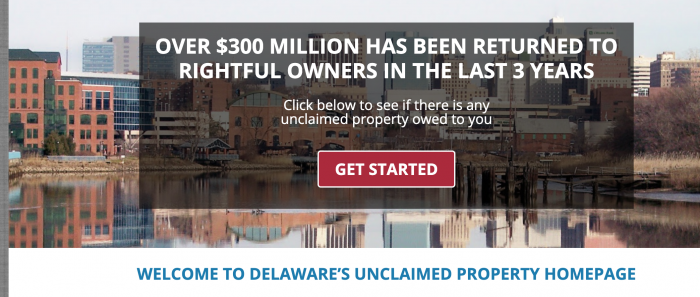 First you can just search the database by name, and if something comes up, provide the state with your identification in order to claim the funds that belong to you.
Delaware Vital Records
The Delaware Department of Health and Human Services is responsible for keeping track of births, deaths, marriages, and divorces that take place within the state. Population data like this is available to you, if you are the person in question, and also to third parties if you give them your permission.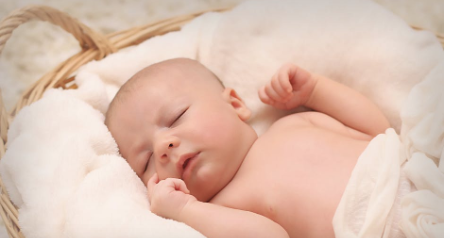 The vital records you find are helpful for numerous situations, but especially if you are applying for any government document or license, from a passport to a professional certification.
To begin your vital records search, go to the Delaware Office of Vital Statistics.
You can do the work online, but the Office of Vital Statistics does outsource the records to third party organizations including GoCertificates and VitalChek.
There are small fees associated with printing and mailing official copies, indicated when you place your order. Also keep in mind the vital records will only be released to the individual in question or with that person's legal authorization.
Conclusion
Hopefully this guide dispelled some of the myths about public records and demystified the process of locating free public records in Delaware. You can also use this guide to run background checks if you are renting property or maintaining a small business in the state. If you need to search for free public records outside of the state of Delaware, the process is very similar and we have guides for all 50 states. If you have any further questions about what you can find and how you can use free public records, consult an attorney.