Introduction
Are you looking for a copy of your driver's license or birth certificate?
Or are you interested in running a background check on a prospective tenant for an income property in Alabama?
Perhaps you want to research a criminal case, or settle a probate case.
These situations require that you access what are known as public records—all the documents and other information that the government keeps. That information can be released to you on request. This guide will show you how to find free public records in Alabama.
Freedom of Information
Laws like the Freedom of Information Act are one of the reasons why it is your legal right to access public records in Alabama or anywhere else in the United States. Alabama has its own statewide freedom of information act called the Open Meetings Law, and there are other laws that serve similar purposes in safeguarding the integrity of our democracy.
Other laws mandate that government agencies need to keep these records. Why it is important to keep public records? For one, keeping records maintains accountability. If you want to review a politician's voting record or the court records in a particular case, you can do so. Second, keeping public records is important for public health and safety. Vital records keep track of births and deaths, while other records keep the public informed about the whereabouts of violent criminals.
In Alabama, the Public Records Law establishes the government mandate to keep accurate records.
The Differences Between Local, State, and Federal Records
When you begin searching for public records, you can easily become overwhelmed by the complexity of government. It seems a mess, and often is, but because the Internet has made it so much easier to find what you are looking for, you should not find it too difficult to find the free Alabama public records you need and for whatever purpose.
Background checks or professional licenses, property taxes or inheriting the remnants of a great-aunt's safety deposit box are other reasons you may be using this guide to finding the free public records you need.
Local records are those stored by municipal government agencies. Occasionally you may need to access these, but you will not find many useful public records at the local level for things like background checks.
At the county level of government, you may locate some types of property records.
Many of the records you are looking for will be stored by state level government agencies. In rare occasions, you could find yourself needing to access some federal records, too, as when a court case was a federal case.
What Can I Find in Free Public Records?
You can find an almost unlimited amount of information by searching the free public records. Governments like their paperwork, and as soon as you start looking for public records in Alabama, you will understand. There are records for all transactions or events that the government has deemed important for one reason or another.
Maintaining public safety is one of the most important reasons why such records are kept. Similarly, people who are running criminal background checks by using free public records are performing their background checks in the interests of their own safety. If you want to protect your property, safeguard your business from would-be thieves, and keep your employees and family safe, it is a good idea to run background checks before hiring someone, before renting out your home or office to them, and before dating someone you met online. Also run background checks if you hire a contractor.
For Employees and Tenants: What is a Background Check?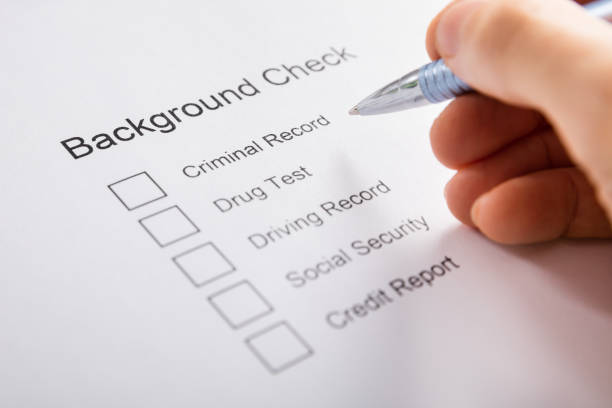 Background checks sound more invasive than they actually are. For employees, they do seem like a nuisance, but all you need to do is remember that your employer is just trying to see if you have a criminal record or if you lied about something on your application.
Your privacy is protected by law, and for many records containing sensitive data like your Social Security Number or your address, you will have to provide your written consent if an employer or anyone else wants to get those records. So rest assured that unless the person engages in unlawful behavior, it is impossible to legally access some restricted public records.
Also know that your juvenile records will not be visible to members of the general public, and only to authorized persons such as the police.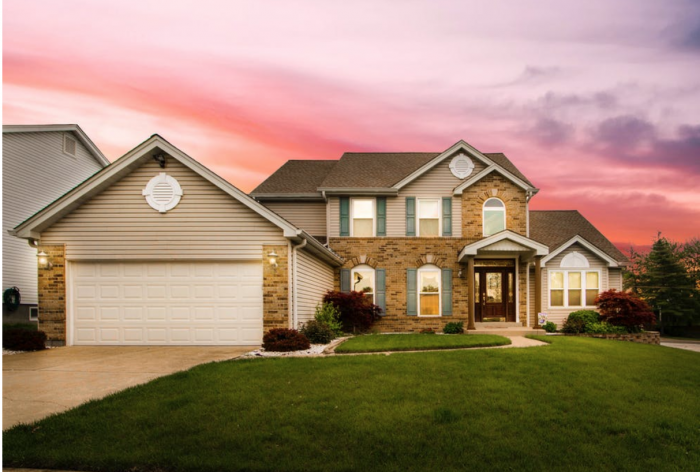 For Employers or Landlords in Alabama
Take your background check process seriously, and do your due diligence. A background check is a crucial component of running your business. If you do not have time to run the background check yourself, you can hire someone to help you.
When you run a business or have income properties, your livelihood is at stake if you do not run criminal history checks or background checks.
While you cannot use the information you find to discriminate, you can make an informed decision about who to hire or lease to based on the free public records.
Alabama Background Checks
Tenant Self-Protection. How do you know your landlord is going to be responsible, and follow through on their obligations to you as a tenant? The only way to find out if your landlord was ever found guilty of negligence, breach of contract, or tort violations is to check the free public records from Alabama courts.
Online dating. Just as employers and landlords use background checks to protect themselves, you can also use the free public records to learn more about the people you meet online. Before meeting in person or becoming intimate, why not verify their data so that you do not get scammed or worse, find yourself in a bad, dangerous situation? Checking the public records can also alert you as to the person's marital status and other important information.
Outsourcing and Hiring Contractors. When you hire a temporary contractor or outsource work to a company, it is always a good idea to check them first. Don't take their word for it; search the public records to see if their license is still valid, or that they have not been found guilty of breach of contract.
Childcare and Eldercare. For most official childcare and eldercare organizations in Alabama, all employees should be thoroughly vetted through a criminal background check. When hiring a babysitter or other informal childcare or eldercare position, run your own background check on the individual using the free public records available to you.
Long Lost Loved Ones. In some cases, you can search for people using the free public records. This may also be true for tracking down your biological parents or adopted child.
Genealogy. Likewise, there are many public records pertinent to searching for your ancestors who may have lived in Alabama, Genealogy is a common reason why people search for free public records, as you can find archived material related to births, deaths, marriages, professional status, and more.
Research. A background check is a process of research. Private investigators, journalists, and attorneys often do research related to background checks that involves accessing a wide range of public records.
FCRA-Compliant Background Checks
If you are a business owner or landlord, you may have heard of the Fair Credit Reporting Act (FCRA).
Read more about it, because it is important to protect yourself from allegations of discrimination that could hurt your reputation as well as your wallet, if you are not careful.
To protect your business, you need to learn about the FCRA and how to conduct an FCRA-compliant background check. This guide helps you with conducting FCRA-compliant background checks. If you use third party services that you stumble upon online while doing a search for the free public records you need, be careful. Outsourcing background checks could run you the risk of accidentally including things like credit history when making a decision.
It is fair to search for information freely available to the general public, and to use the information an applicant consents to providing you with, but do not use any tactics that might be construed as discrimination against someone just because of their credit history. Many successful people have had bad credit at some point, and a bad credit history can never get better unless a person gets a good job and finds a decent place to live. That is why the FCRA is important.
An FCRA compliant background check avoids using someone's credit history against them. Your attorney can tell you more about it, and how you can safeguard yourself from lawsuits when you use the public records to make applicant decisions.
Can Employers Find Out Everything About Me?
Prospective tenants and employees will be happy to learn that the FCRA and other laws protect your privacy, and also protect your data from security breaches. If you are concerned about what an employer can find out about you and your past, just run a background check on yourself!
You can use this guide to show you what types of records you could be concerned about and then access those records as if you were a third party. Most of the records related to your finances, your vital records, and records containing any information that could be misused will not be readable to just anyone.
If you have a criminal record, that information will be visible unless you were convicted as a minor.
However, a lot of information in the public records requires your authorization for anyone but you and authorized personnel to access it.
How Can I Find….
Now you can start using the government websites to locate public records in the State of Alabama.
Alabama Court Records
For cases heard in a federal court, including United States Appellate Courts (courts of appeal), and United States District Courts, you can check the public records through the United States Department of Justice.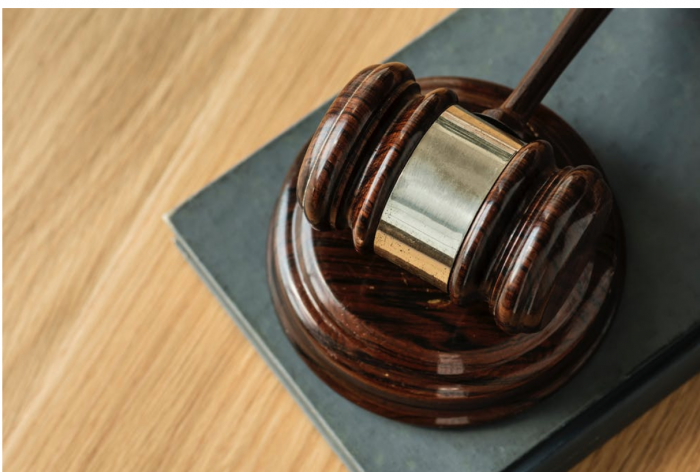 For all other cases, such as most crimes and civil cases, you will want to visit the Alabama Administrative Office of Courts website.
From there you will see options such as the easy "AlaFile" database of state court records.
To protect the innocent, you are generally not granted access to arrest records unless a person was convicted. You will also be disallowed from viewing juvenile court records.
Checking court records is the central part of a criminal background check, but there are also other components too. You can look into the correctional records to see if a person is on parole and how much time is left on their sentence. Similarly, you can check a person's driving record.
Driving Records
Through the Alabama Law Enforcement Agency, you may access many of the public records related to driving including crash reports.
To access driving records in Alabama, go to the Alabama Law Enforcement Agency and then use this form to request a copy of the record.
There are some fees for processing.
Jail, Prison, Inmate Records
Of course, prison and inmate records are part of a thorough criminal background check.
But there are many other reasons for searching the Alabama Department of Corrections for information on a specific person.
Perhaps it is a relative, friend, or someone else you want to get in touch with or send money to. Some victims want this information for their own self-empowerment, whether for restitution or just to know when a perpetrator gets out of prison.
You can also search the inmate records for how much time might be left on a person's parole.
The inmate search function is simple, and you often only need the person's name.
Missing Persons Records
As tragic as it is when a child or adult goes missing, law enforcement works hard to locate your loved ones. One of the ways state law enforcement agencies work together to find missing persons who might have crossed state lines is to maintain regularly updated missing persons databases.
The Alabama Law Enforcement Agency, the state police department, is in charge of keeping up the missing persons database and sharing information with other state police departments.
People like you can search for missing persons they know, or to help law enforcement identify a missing person.
Search the Missing Persons Database now.
Sex Offender Registry
All states maintain sex offender registries. These registries are an imperative for criminal justice. By law, convicted sex offenders register and their names are distributed nationwide. This way, if a convicted sex offender moves to Alabama from another state, you can still find out.

In Alabama, the criminal justice services division of the Alabama Law Enforcement Agency has the information you need.
Or, if you or someone you know was a victim interested in staying as far away as possible from a violent criminal, you can use the database to know where the person lives. You may not find their actual address, but you will at least know the county.
The same is true for any person and any parent who just wants to know if they and their children are safe.
Search the Alabama Sex Offender Registry now.
Property Records
Property records, like titles, deeds, lien information, and property tax data are all part of the public record.
Likewise, government property assessors make information available to the public. These public records pertaining to the value of property are prepared by county government officials.
The Department of Revenue has a convenient county-by-county list in Alabama. All information related to titles and deeds that is in the public records can be found through the county.
This list takes you to the relevant county government office where you can learn about the valuation of a property. This is important for home buyers, but for other reasons, too.
For the public records that are more related to property tax, you would go visit the Alabama Department of Revenue.
Unclaimed Property
Did you ever wonder what happens to money that gets left in old checking accounts, or the items in a safety deposit box someone forgot about long ago?
First the financial institution or insurance company will try and track down the rightful owner.
What happens if the rightful owner left town, can't be located, or died and forgot to list the item(s) in their will? In that case, the state government takes the money.

But the government only auctions off the property if no one claims it. If someone claims the money or other property, then the Alabama Office of State Treasurer must honor that request.
As long as you can prove your identity as the property owner or beneficiary to that property owner (and by property we mean small amounts of cash or personal items in a safety deposit box, but not real estate) you can claim your money.
You would be shocked to find out that over $25 million has been paid out already, with unknown amounts of cash still unclaimed.
If you have any doubts about a will, estate, or trust in your family involving unclaimed wages, unredeemed dividends, or payroll checks, then it can't hurt to enter your information and see what happens.
Vital Records
Vital records include anything pertaining to a person's life, literally including birth and death certificates. Marriage and divorce certificates are also considered vital records, in part because families are vital to society but also because marriages often lead to more births and hence, more birth certificates.
Adoption records and records of stillbirths are also accounted for by public health agencies for statistical and public health purposes.
The Alabama Public Health agency is where you will find the vital records you need.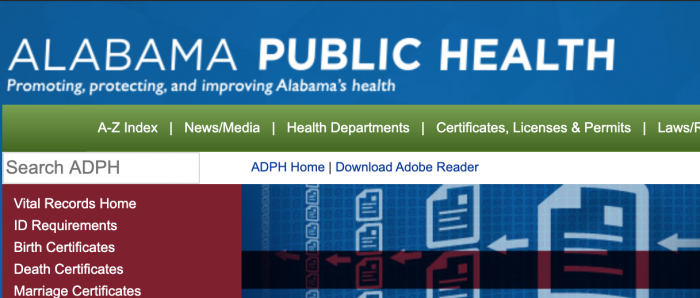 Ordering vital records is easy if you are the person ordering your own vital records. For example, if you need a copy of your birth certificate, you can obtain one.
If someone else wants a copy of your birth certificate, they need your permission.
Why do you need vital records?
If you are changing your name legally, that would involve accessing your vital records. After marriage or divorce, or for any other reason, changing your name does require that you access the vital records. If you were born in Alabama, then you go to the Alabama Public Health department and follow the rules for obtaining an official copy of your birth certificate.
Other Reasons for Using Vital Records
There are other situations requiring you to access vital records.
When you apply for a passport, you have to provide vital records like a birth certificate and proof of legal name change, if you changed your name.
Similarly, applying for a visa or for residency in another country might require official copies of your vital records. If you were born in Alabama, this guide provides you with direct links to the state's actual, official records.
Another common reason people use this guide to seek and find vital records is in the case of the death of a family member.
Perhaps you need the death certificate for a probate case, or to settle an insurance claim.
Archived birth and death records are useful for genealogy researchers or historians.
Marriage records are essential for things like name changes or getting a divorce, while divorce records are needed when you want to remarry.
Therefore, vital records are truly vital in Alabama, and anywhere else.
Conclusion
The free Alabama public records you need are at your fingertips, thanks to digitalization of files and the ease of locating information online.
Most societies keep meticulous public records, and have for at least a century. Public records are not just about creating red tape and clutter in the government, even though some public records do seem redundant and unnecessary.
Reading this guide, you should also keep in mind the various functions of public records not mentioned here such as government legislative proceedings or anything that could prove useful to someone concerned about corruption. If you want to learn about a certain bill passed in the state legislature or Congress, you can do so thanks to public records.
Also remember to thank the founding fathers for recognizing the value of essential rights and freedoms like freedom of press.
While freedom of information is a relatively new phrase, its spirit goes back at least to the time of the Enlightenment, when values like government transparency and legitimacy first took root in what is now known as Western Civilization.